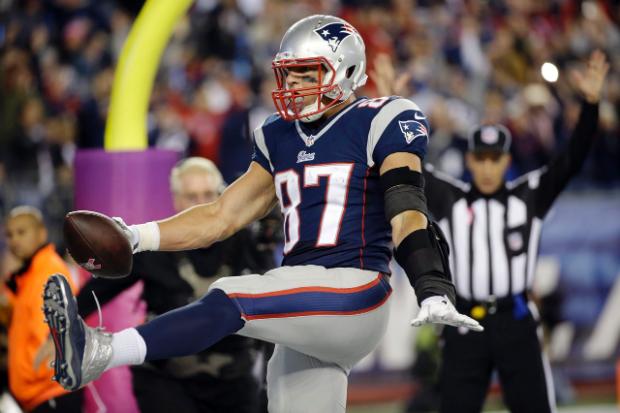 Photo: Patriots Media
Week five of the NFL marks the end of the season's first quarter, and the weather has become visibly colder. The playoffs will be here before we know it, while the stakes rise gradually each and every week. 
After a debacle of a performance during last week's Monday Night Football, the Patriots made a statement Sunday night. Led by Tom Brady, New England defeated the Cincinnati Bengals convincingly 43-17. The Bengals, undefeated entering the contest, looked outmatched on all sides of the ball, while America watched Brady meticulously pick apart their defense. He finished with 292 passing yards and eclipsed the 50,000 mark for his career. 
Brady wasn't the only quarterback to reach a significant milestone. Broncos quarterback Peyton Manning threw the 500th passing touchdown of his career in a 41-20 victory over the Arizona Cardinals. Manning also recorded 479 yards and four touchdowns on the day, just another day in the office for the future hall of famer. 
Despite the microscope looming over their heads, the Dallas Cowboys have been very good for most of the year. Their 20-17 win against the Houston Texans was ugly, yet telling of where stand as a unit. The good teams grind out wins, not all are pretty. Yesterday's defensive struggle was not the Cowboys style, typically a dynamic offense, but they made do and came out on top. 
The New Orleans Saints appeared to turn their season around Sunday with their 37-31 overtime win over Tampa Bay. Win or not, the Saints let the inferior Buccaneers hang around all afternoon, even with second string quarterback Mike Glennon. Brees put up big numbers (371 passing yards) which will please fantasy owners and New Orleans fans alike. One of Sunday's best games featured the struggling Tennessee Titans and the feisty Browns. Cleveland rallied from a 28-3 deficit to win 29-28 in the final minute of the game. 
All scores from Sunday's games:
CAROLINA def. Chicago: 31-24
Cleveland def. TENNESSEE 29-28
PHILADELPHIA def. St. Louis: 34-28
NEW YORK GIANTS def. Atlanta: 30-20
NEW ORLEANS def. Tampa Bay: 37-31
DALLAS def. Houston: 20-17
Buffalo def. DETROIT: 17-14
INDIANAPOLIS def. Baltimore: 20-13
Pittsburgh def. JACKSONVILLE: 17-9
DENVER def. Arizona: 41-20
SAN FRANCISCO def. Kansas City: 22-17
SAN DIEGO def. New York Jets: 31-0
NEW ENGLAND def. Cincinnati: 43-17
(Caps represent home teams)
By Kyle Edwards

Watch the Seattle Seahawks take on the Washington Redskins tonight on ESPN's Monday Night Football at 8:30 pm ET.