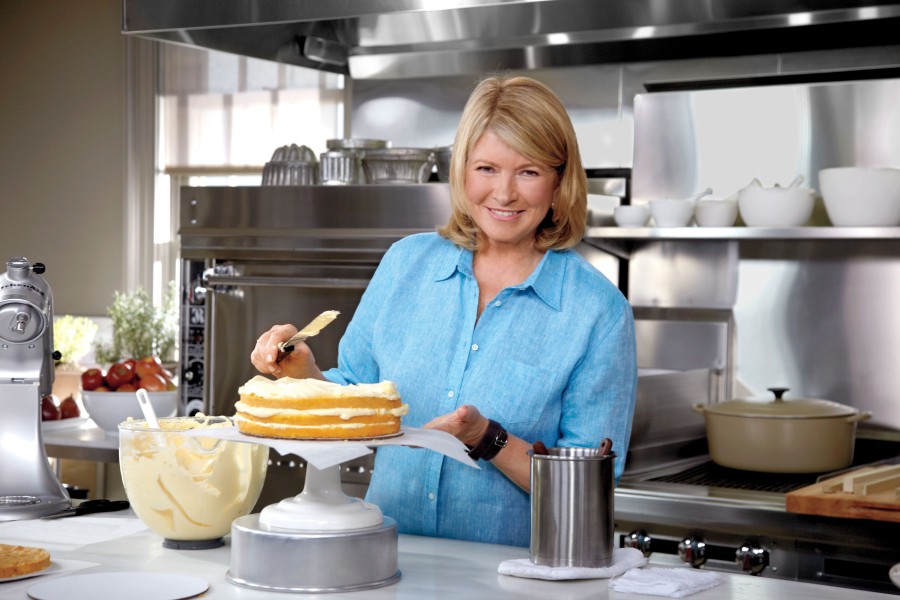 Martha Stewart Living Omnimedia, Inc. premieres the fourth season of the 2014 James Beard Award winning Martha Stewart's Cooking Schoolon PBS stations nationwide beginning October 4, 2014 (check local listings). The program will be presented in association with WETA Washington, D.C., the flagship public broadcaster in the nation's capital. Martha Stewart's Cooking School airs in 163 markets on 398 channels and covers 90.71% of the US. KitchenAid and O Olive Oil will serve as sponsors.
The fourth season of Martha Stewart's Cooking School follows three successful seasons of the series, which averaged 700,000 weekly viewers per original episode. Each 30 minute episode, which was both produced by MSLO and inspired by Emmy® Award-winning TV host Martha Stewart's bestselling book of the same title, features Martha demonstrating more classic cooking techniques and basics using her signature step-by-step, how-to teaching process. This season features all new episode themes including on the bone, mushrooms, cooking with wine, one-pot meals, sandwiches, French bistro classics, steakhouse, Italian favorites, and more.
"I'm very happy that Martha Stewart's Cooking School continues to be so well-received and is back for another season," said Ms. Stewart. "The show brings together my two greatest passions—cooking and teaching—and it's truly wonderful to see home cooking so embraced by viewers. The recipes are very accessible and I'm excited for our new themes including one-pot meals, which showcases some recipes from my latest book, One Pot."
This season, KitchenAid will continue to serve as a sponsor of the show. "We're excited to partner with Martha Stewart, whose expertise has long been a source of creativity for home cooks around the world," said Beth Robinson, senior brand experience manager for KitchenAid. "From our stand mixers to our wall ovens, KitchenAid appliances are designed to provide culinary inspiration and help cooks take on any challenge."
This season also welcomes a new sponsor, O Olive Oil. "We are delighted to partner with Martha Stewart's Cooking School this season," said Greg Hinson, President and Founder of O Olive Oil & Vinegar. "Martha Stewart herself has long been an inspiration to us here at O. She has consistently reinforced for us the idea that food can be both healthy and delicious while appealing to the senses. We like to think we make food that tastes as good as it looks! For us making oil and vinegar is a total sensory experience. I love to walk the groves and vineyards where our products start their journey to the table. Family farmed, biodynamic & organically grown citrus and olives make O uniquely California."