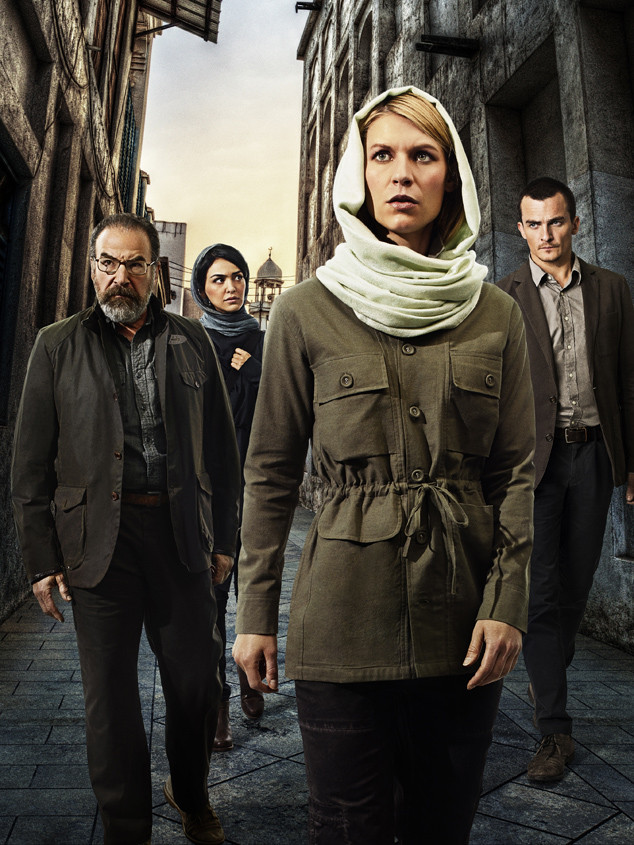 The fourth season of HOMELAND premieres with two new back-to-back episodes on Sunday, October 5 at 9 p.m. ET/PT.
SHOWTIME is amplifying the fan engagement surrounding the network's No. 1 series, Emmy® and Golden Globe® winner HOMELAND, with SHOWTIME Sync, the network's companion viewing experience for iPad, iPhone and LG Smart TVs. Application users will be able to share select HOMELAND video clips directly to social media platforms instantaneously during new episodes, facilitating social conversation as the action transpires on screen. With one click, viewers can share a video of a key moment from the episode, marking the first time ever an application has made immediate clip sharing available from Smart TVs. In addition, viewers will have access to exclusive episodic commentary from executive producer and showrunner Alex Gansa, who will give an inside perspective on key scenes. This season, real-life observations and analysis from a former CIA field operations officer will also be threaded throughout the episodes. Additionally, fans will be able to predict future plotlines for subsequent episodes and compete against one another to earn points and custom-designed badges.
 
SHOWTIME Sync offers exclusive interactive bonus content perfectly synchronized to the episodes, whether fans watch live, delayed, on-demand, streaming, or from a DVD. For HOMELAND, the fan experience includes a steady stream of engaging interactive content including episode predictions, "Your Take" polls, trivia questions and informational factoids, as well as a curated post-show wrap up with behind the scenes features and previews of the next episode. Content is precisely timed and crafted to enhance the episodes. The SHOWTIME Sync Application is available for iPad and iPhone, enabling second screen activities automatically synced to the content on screen. LG Smart TV users can join with a click of the remote and view the same content on the television as the show is airing. For more information visit http://www.sho.com/sync.
 
This season, Carrie Mathison (Emmy, SAG® and Golden Globe winner Claire Danes) is assigned to a new post, Chief of Station at the US Embassy in Islamabad, Pakistan. On the front lines of the war on terror, she is tasked with protecting US interests in the region from forces within the Taliban.  Her mission pulls her into the complex dichotomy between international diplomacy and clandestine operations. Produced by Fox 21, HOMELAND also stars Emmy and Tony® Award winner Mandy Patinkin, Emmy nominee Rupert Friend, Nazanin Boniadi, Tracy Letts and Laila Robins.  Guest stars include Suraj Sharma, Raza Jaffrey, Sarita Choudhury, Michael O' Keefe, F. Murray Abraham and Corey Stoll. HOMELAND averaged seven million total weekly viewers in its third season. Based on the original Israeli series Prisoners of War by Gideon Raff, the series was developed for American television by Alex Gansa and Howard Gordon.  Along with Gansa, Gordon and Raff, the executive producers for season four are Alexander Cary, Chip Johannessen, Lesli Linka Glatter, Meredith Stiehm, Avi Nir and Ran Telem.