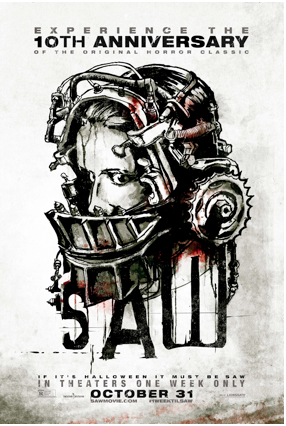 SAW will be returning to theaters to celebrate its 10th Anniversary next FRIDAY, OCTOBER 31ST! In anticipation of the re–release of this ICONIC horror film, A new collectable poster has been released.
"As part of SAW's 10th anniversary, we're thrilled to give new fans and audiences the opportunity to experience this film on the big screen for the very first time," added SAW's producers Oren Koules and Mark Burg.
 
SAW was the first collaboration for co-creators James Wan, who directed the film, and Leigh Whannell, who wrote the screenplay. Together, they also created the successful INSIDIOUS franchise, and Wan has gone on to direct such high-profile films as THE CONJURING and the upcoming FAST & FURIOUS 7.
Directed by Wan from a script penned by Whannell, SAW is a psychological thriller focusing on two men who wake up in a secure lair of a serial killer, with a dead body lying between them. The killer, nicknamed "Jigsaw," leaves them tape recorded messages with details of how to make it out alive.
Check out the gripping poster and head to theaters on the evening of OCTOBER 30TH to be the first to experience the epic return of the unbelievably twisted serial killer, Jigsaw!