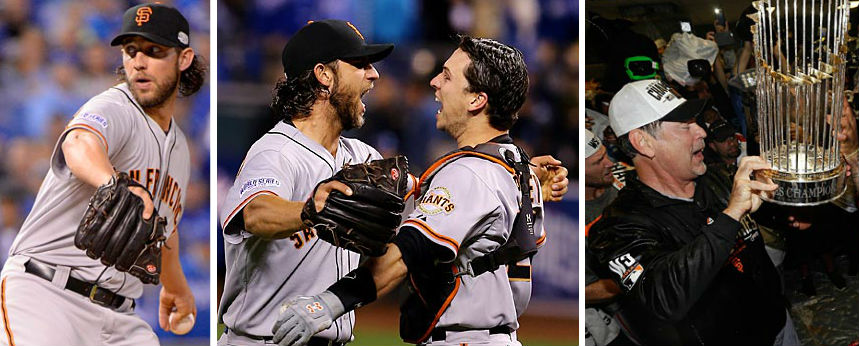 Although this was one of the lowest rated World Seriesin quite some time, according to TV ratings; there were still many memorable moments. The San Francisco Giants defeated the Kansas City Royals in a winner-take-all game seven to hoist the 2014 World Series crown. The title is their third in five years. 
The Royals seemingly had karma on their side and were poised to put a Hollywood ending on a memorable season, but the Giants had other plans. Early on, the Royals had to think things were going their way after they knocked out starter Tim Hudson. But in the fourth inning on just two days rest, and the Giants protecting a 3-2 lead, Madison Bumgarner was brought in for what most thought would be an inning or two, but he pitched an improbable five. Bumgarner was amazing allowing only two hits and preserving the San Francisco victory. For his game seven heroics, and two wins earlier in the series, Bumgarner was named World Series MVP. 
A man possessed, Bumgarner set the MLB record for innings pitched in a postseason, 52 and two-thirds. 
"You know what? I can't lie to you anymore," he said after the game. "I'm a little tired now."
The score was knotted at two at the end of the second inning. In the fourth Michael Morse drove in Pablo Sandoval to put the Giants ahead for good. Bumgarner came in the next inning and the rest is history. 
For the Royals it was a season of high hopes, but in the end, their hopes were dashed. In their first postseason appearance in 29 years, Kansas City was undefeated entering the Fall Classic. They brought swagger and a dynamic energy, becoming America's darlings in the process. That was until they couldn't match the experience of San Francisco. 
They Royals became the first team to lose a World Series game seven at home since the Baltimore Orioles in 1979. For the Giants, they're talking dynasty in San Francisco. The Giants have managed to tap into a consistency that hasn't been seen since the new-millennium Yankees. 
Will future generations celebrate Buster Posey, Hunter Pence, and Bumgarner like Yankee greats Derek Jeter, Tino Martinez, and Mariano Rivera? Only time will tell, but they're on the right track. 
By Kyle Edwards
Gm 1
Oct. 21
SF 7, KC 1
Gm 2
Oct. 22
KC 7, SF 2
Gm 3
Oct. 24
KC 3, SF 2
Gm 4
Oct. 25
SF 11, KC 4
Gm 5
Oct. 26
SF 5, KC 0
Gm 6
Oct. 28
KC 10, SF 0
Gm 7
Oct. 29
SF 3, KC 2
Photo: http://m.giants.mlb.com