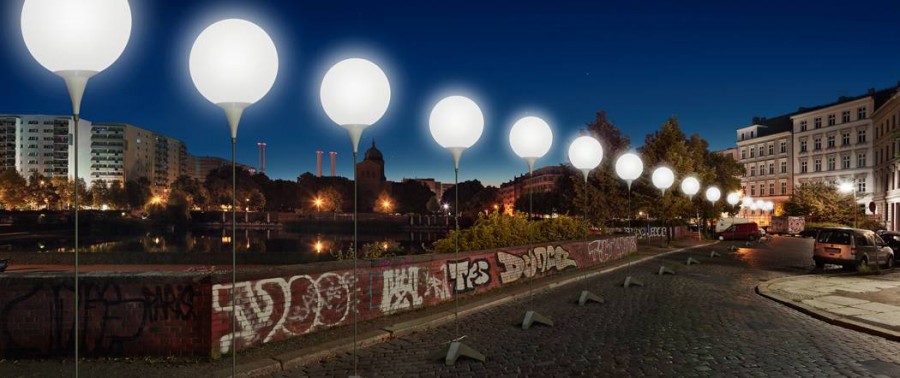 Leading members of UN Secretary-General Ban Ki-moon's Millennium Development Goals Advocacy Group launch a worldwide Online Initiative to commemorate the 25th Fall of the Berlin Wall anniversary.
In honor of the 25th anniversary of the Fall of the Wall a light installation with 8,000 helium balloons will trace the former course of the wall in Berlin from 7 to 9 November. In a large ceremony thousands of balloon patrons will release the balloons with personal messages into the night sky on 9 November as a sign of freedom.
Leading members of Ban Ki-moon's UN Advocacy Group have honored the symbolic power of the Fall of the Wall by becoming virtual balloon-patrons. The group's chairs are Paul Kagame, President ofRwanda, and Erna Solberg, Prime Minister of Norway.
Nobel Peace Prize Winner Muhammad Yunus pointed out that "the Fall of the Wall 25 years ago fosters hopes all over the world that the UN Millennium Development Goals will be attained. After all, thousands of people achieved the seemingly impossible on 9 November, 1989 through courage and perseverance."
Kulturprojekte Berlin, organizer of the event, and Facebook invite everyone to participate: virtual balloon patrons can send in messages concerning the Fall of the Wall via Facebook, Instagram or Twitter (hashtags #fallofthewall25 and #fotw25)
The symbol of the project is the white freedom balloon. Facebook founder Mark Zuckerberg already posted a photo with the Berlin balloon on his profile. His message to the people ofBerlin and to the whole world: "When people are connected, they can bring down walls and lift up nations."