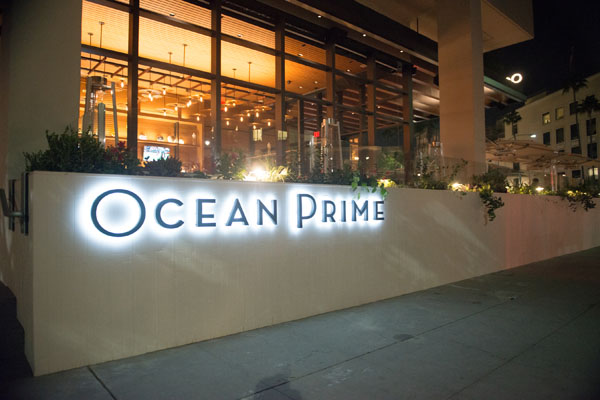 Cameron Mitchell Restaurants is announced that its award-winning modern American supper club Ocean Prime has officially opened today in Beverly Hills, Calif. Its first foray into Southern California, Ocean Prime is located at 9595 Wilshire Boulevard at the apex of Wilshire, Dayton Way and Camden Drive. Serving lunch Monday through Friday and dinner nightly, Ocean Prime offers guests the highest quality seafood, steaks, handcrafted cocktails and award-winning wines.
"We are excited to unveil a new culinary experience in the Beverly Hills community," said Cameron Mitchell, Founder and CEO of Cameron Mitchell Restaurants. "The menu features some of Ocean Prime's signature items including filet mignon Oscar style and Chilean sea bass, as well as new additions inspired by the West Coast such as fresh, hand-rolled sushi."
Executive Chef Matt Briggs, and General Manager, Stephen Cook, bring a combined four decades of service experience to Ocean Prime, and are already immersed in the Los Angeles community, having worked and lived here for many years.
The Ocean Prime Beverly Hills menu pairs the freshest seafood with the finest prime steaks and features the highest quality ingredients available. Made from scratch dishes showcase simple, pure and regional flavors unique to the Los Angeles culture and area.
Some signature dishes include the seared ahi tuna with roasted marble potatoes, fava beans, mushrooms and truffle jus; and Alaskan king salmon with lobster, gnocchi, spring peas, and lemon jus. New menu items include a sushi menu that includes a lobster roll with kiwi, pickled jalapeno, masago, and spicy mango puree; and hamachi crudo with seaweed salad, pickled mango, sesame ginger vinaigrette, and cilantro. To view the full menu, please click here.
Spanning 11,400 square feet, Ocean Prime seats 350 guests and provides both cozy nooks, and open, bustling areas, all in the heart of Beverly Hills and just steps from Rodeo Drive.
Upon entering Ocean Prime, to the right is a sprawling terrace ideal for an al fresco power lunch or intimate dinner date. It is lined by lush landscaping, a unique fire element, and offers intimate white leather booths and soft seating with comfy pillows in a palette of light creams and blues. The terrace also boasts a large glassbox bar, the only of its kind in Beverly Hills, ideal for cocktails or communal dining. The glassbox bar is clad with premium wine bottles and a massive, internally illuminated wood barback, evoking a simplistic opulence.
To the left, enter the lounge and bar, which has a welcoming, relaxing space for guests to enjoy expertly prepared cocktails handcrafted by Ocean Prime's talented bar chefs.
The design gets progressively darker, moodier, and sexier as the main bar wraps back further into the dining space and becomes a sushi bar. Once guests arrive in the main dining room, they're greeted by a view into the flames and action of the open kitchen, as well as surrounded by storefront-like windows that peek into three private dining rooms. Walls are lined with black and white artwork featuring classic Hollywood stars, commissioned by Artists Jordan Clark, Lola Dupré, and Jenny Sharaf. Dark wood tables and rich leather seating juxtapose the surprisingly chic, industrial hanging light fixtures that are suspended above the dining area.
Throughout the restaurant warm oak floors and walls are paired with exposed brick accents, and ceiling-to-floor glass doors lead out to the terrace.
The restaurant offers a private backdoor entrance should any guest seek complete anonymity.
Inspired by Mitchell's Ocean Club, which Cameron Mitchell Restaurants opened in 2006 in Columbus, Ohio, Ocean Prime first opened in 2008 in Troy, Mich. The restaurant has since expanded to 11 locations nationwide in Atlanta, Dallas, Denver, Indianapolis, Philadelphia, Phoenix, and Orlando and Tampa, Fla. Future locations are planned to open in New York City in spring 2015.
Hours of operation: Monday through Friday, from 11:30 a.m. to 10:30 p.m. Saturday from 5 p.m. to 11:30 p.m. Sunday from 5 p.m. to 11:30 p.m. Happy Hour is Monday through Friday, from 4p.m. to 7 p.m. Reservations can be made by phone 310.859.4818 or online.