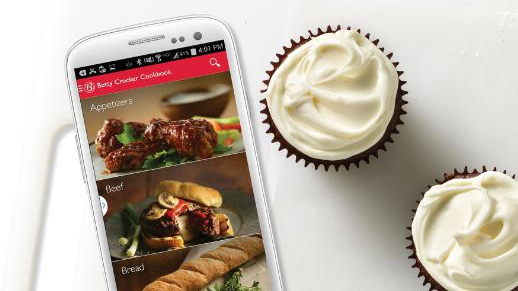 Betty Crocker™ announced its popular free digital cookbook app is now available for Android at the Google Play Store. Inspired by its best-selling cookbooks, the Betty Crocker app features more than 15,000 kitchen-tested recipes, all at your fingertips, cutting through clutter to simplify cooking with a device.
Since the newly refreshed launch for iOS in September, more than 450,000 consumers have installed the new Betty Crocker Cookbook app or upgraded the existing app, and have been enjoying cooking with ease with their devices. Comments from recent consumer reviews includes: "I love this app, especially cooking with it! I've made a couple of recipes with it already, the fact that they show you the ingredients and steps in one view makes prep and assembly go by so much quicker. Also, my screen doesn't dim or lock while I'm cooking which means it'll stay cleaner." And, "I'd recommend this to anyone who cooks with their devices, or is looking for recipe inspiration!"
The app for Android features beautiful food photography, with content organized by 'chapters' of Betty Crocker's most popular and highest-rated recipes – even including chapters for gluten-free and vegetarian diets. Consumers can even save favorite recipes to their own personal 'chapter' of the cookbook app. 
Keeping it Fresh With New Content
Users will also receive the latest and greatest Betty Crocker recipe content with new chapters updated and sent seasonally, without having to upgrade the app. With this update a new fall baking chapter is included featuring a variety of apple and pumpkin desserts, such as Maple Bacon Cookie Bark and Pumpkin Spice Latte Cookie Cups. In November, a chapter for holiday cookie recipes and ideas will be added. So there will always be something new to discover and make. 
Betty Crocker Cookbook App Features Users Praise 
When cooking with a device there is nothing more frustrating than having to touch the screen with messy hands when the screen locks up. With the cookbook app for Android, users can easily navigate through a recipe, complete steps and even walk away without the screen locking. They can also keep track of what ingredients they've added and steps they've completed along the way by simply checking or "tapping" them off as they go.
And for those that need to adjust recipes, there are in-app tools for substitutions and conversions in context of each recipe.
With connectivity being extremely important to the millennial consumer, users can also easily text, email or socially share a recipe with family and friends directly from the app.
Betty Crocker Cookbook App Featured at Better Homes and Gardens Cooking Experience
More than 80 readers from across the country attended Better Homes and Gardens' first-ever consumer Cooking Experience, held at the BHG headquarters in Des Moines, Iowa on October 10 and 11, 2014. BHG opened the doors of its famed Test Kitchen for recipe sampling, demos and tours. Betty Crocker was able to be a part of the event which featured fun, fresh ideas to elevate holiday entertaining.
During the event, attendees downloaded and played with the new Betty Crocker Cookbook app and sampled recipes from the newly released fall baking chapter featuring the limited-edition Betty Crocker cookie mix flavors—Pumpkin Spice and Maple Bacon.
"We were so pleased to have Betty Crocker be part of this event and loved the positive reactions from our attendees when they tried and downloaded the new app," said Nancy Hopkins, Senior Deputy Food & Entertaining Editor, Better Homes and Gardens. "Consumers loved being able to sample recipes from the app and commented how much they enjoyed the new features, photography and the fact that the screen doesn't lock."
And with over 90 years of understanding and helping home cooks, Betty Crocker knows the importance of recipe success. The app features more than 15,000 kitchen-tested recipes incorporating decades of learning. 
The Betty Crocker Cookbook App is available for free at the Google Play Store for Android, or at https://play.google.com/store/apps and at the App Store for iPhone, iPad and iPod touch, or at www.AppStore.com.
To learn more, go to: www.BettyCrocker.com/apps.