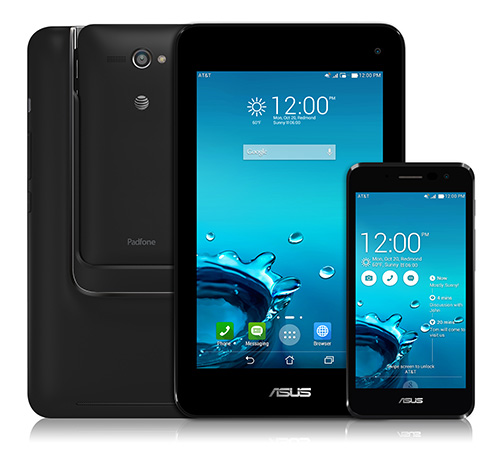 ASUS, AT&T and Intel Corporation today announced the availability of the ASUS PadFone X mini, a 4.5-inch 4G LTE smartphone powered by the Intel Atom processor and an Intel XMM 7160 LTE modem. The PadFone X mini transforms into a 7-inch 4G LTE tablet-like experience when docked into its companion docking station. It will be available in AT&T retail stores on Oct. 24 and in national retailers by November. Exclusively on the nation's most reliable 4G LTE network, covering more than 300 million Americans, the PadFone X mini will retail for $199.99 on GoPhone, AT&T's branded prepaid service plans start at only $40 per month for 500 MB of data and 500 minutes of talk time.
"The PadFone X mini is a powerful device with great features from ASUS and Intel – and all on the nation's most reliable 4G LTE network," said Jeff Bradley, senior vice president – Device Marketing and Developer Services, AT&T. "Offered at budget-friendly prices, consumers that want a quality device with no annual contract will be thrilled with the performance and value of the PadFone X mini."
For ASUS, Corporate Vice President and General Manager of Mobile Communication, Benson Lin stated, "ASUS is passionate about providing incredible experiences. We are excited to work with AT&T and Intel to bring the ASUS PadFone X mini to the U.S. This unique device offers the compelling combination of a 4.5-inch LTE smartphone and the power and versatility of a 7-inch handheld tablet that allows people the best of both world experiences."
"The combination of Intel's processor and cutting-edge LTE solution gives the PadFone X mini a robust, one-two punch for U.S. consumers," said Hermann Eul, Vice President and General Manager of Intel's Mobile Communication Group. "People are demanding more from their devices, and the phone's unique smartphone and tablet form factor allows consumers to have more capabilities on one data plan, all at an affordable price. Intel, ASUS and AT&T have proven to be a powerful trio to deliver a fast and easy-to-use phone for on-the-go multi-taskers."
Full specifications are available at www.asus.com/us/.