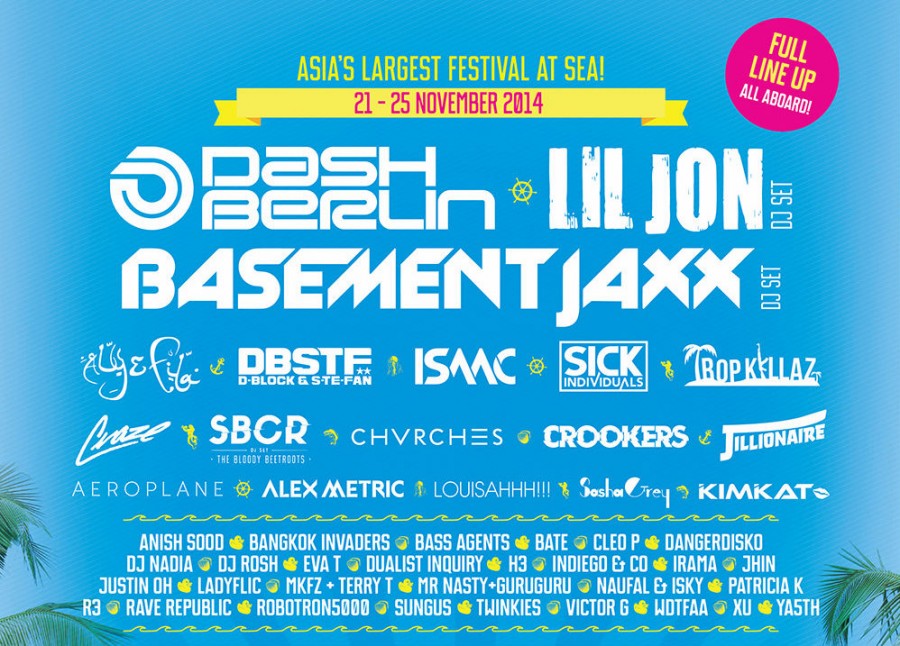 The Livescape Group has officially released the full lineup for the inaugural voyage of IT'S THE SHIP, Asia's largest music festival onboard the prestigious Royal Caribbean International's 'Voyager Of The Seas'. The maiden expedition sets sail from Marina Bay Cruise Center on the 21st of November and will return to Singapore's shores on the 25thof November. As a key itinerary highlight, on the 23rd of November, the cruise liner will dock on the tropical island of Langkawi for a full-fledged, star-studded beach party hosted by Lil Jon.
* Aeroplane * Alex Metric * Aly & Fila * Basement Jaxx (DJ Set) * Chvrches * Craze * Crookers * Dash Berlin * DBSTF (D-Block & S-te-fan) * Isaac * Jillionaire * Lil Jon (DJ Set) * Louisahhh!!! * SBCR (The Bloody Beetroots) * Sick Individuals * Tropkillaz Regional acts (in alphabetical order)
* Anish Sood (IN) * Bangkok Invaders (TH) * Bass Agents (MY) * B.A.T.E (MY) * Dangerdisko (MY) * DJ Nadia (MY) * DJ Rosh (NL) * Eva T (MY) * Dualist Enquiry (SG) * H3 (MY) * Indiego & Co (MY) * Irama (MY) * Jhin (MY) * Justin Oh (KR) * Kimkat (US) * Ladyflic (ID) * MKFZ + Terry T (MY) * Mr. Nasty + GuruGuru (MY) * Naufal & Isky (MY) * Patricia K (MY) * R3 (CN) * Rave Republic (SG) * Robotron5000 (MY) * Sungus (SG) * Twinkies (MY) * Victor G (MY) * We Don't Techno For An Answer (WDTFAA) (MY) * Yafifth (SG) "We are extremely proud to announce our full lineup and we hope the fans are as excited as well. I urge those who have yet to buy their cabins to do so soon as all our cabins are selling out extremely fast. This is one event you won't want to miss," explainedMuhammad Iqbal, Group Chief Executive Officer for The Livescape Group.
The floating music festival is expected to attract over 3,800 fans of which 60% are expected to come from outside ofSingapore. Punters are expected from all over the world includingAustralia, Thailand, Indonesia, Philippines, Hong Kong, and even Europe and the USA.
The cabins on board IT'S THE SHIP range in price from USD $430 (early bird price) to USD $4,000 per person for the epic 'Royal Suite' which even houses a grand piano as part of the luxurious interior. Ticket prices are inclusive of main meals, selected non-alcoholic beverages and free usage of most of the ship's facilities. A registration system, housed athttp://www.itstheship.com <http://www.itstheship.com/>, is now in place in order to encourage a mixed diaspora on board the cruise.Registration and cabin sale closes on 1 November 2014.
"The idea behind IT'S THE SHIP is to provide a fresh unique experience for music fans in the region. This isn't just a normal music festival, what we have done is curate a platform that merges both a relaxed atmosphere of a vacation with the epic experience of a music festival on board one of the world's best cruise liners", Iqbal added.
For more information on cabin options and prices, updates and other details, log on to http://www.itstheship.com