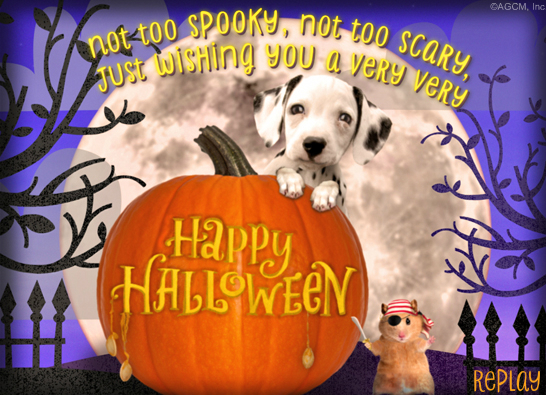 Celebrate Halloween with tricks, treats and everything in between with American Greetings.
Each card in the innovative new Boogie Fever™ collection features a pop-up stage with a party full of candy corn, eyeballs or zombies dancing to the beat of a popular song. For those who like some silly with their spooky, humorous cards ranging from cute jokes and puns to something slightly offbeat are also available now in the American Greetings card aisle.
In addition to the large selection of paper cards to celebrate Halloween, American Greetings offers an assortment of digital options. Little artists can design their own real paper greeting cards using the Halloween stickers that are coming soon on the Creatacard iPad app, and then we'll professionally print and ship their cards anywhere in the world. For interactive digital cards with tailor-made voice messages, the LIVE Greetings app is sure to crack smiles as big as jack-o-lanterns. Use the justWink website or mobile app to send sweet, sassy and surprising Halloween cards via text, email, Facebook or Twitter, or send your greeting (complete with your own message and photo!) by regular mail.  Cardstore, the popular custom greeting card website from American Greetings, allows you to create personalized Halloween cards and party invitations that we'll even stamp and mail for you!
For the next two years, Halloween falls on a weekend – when adults are most likely to celebrate – so get ready to party! Check out the full line of party goods featuring from classic and cute to trendy and spooky, with more sophisticated designs for the large number of adult and young adult parties.  Get creative with your Halloween celebration by wrapping candy in festive goodie bags, dressing up your party space with fun indoor and outdoor decorations and enhancing gifts with glow-in-the-dark gift bags and stylish printed tissue paper.  If you're looking for the perfect non-candy treat for the kiddos, don't miss the collection of eye-catching stickers in a variety of shapes, sizes and designs.