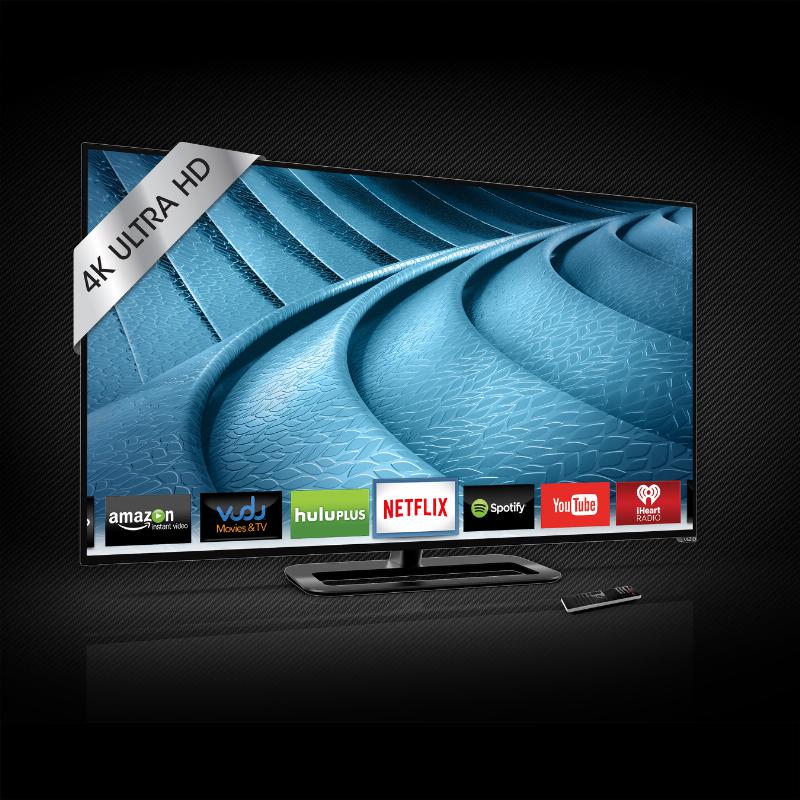 VIZIO launched its all-new P-Series Ultra HD Full-Array LED Smart TV collection to the U.S. market, offering a crystal-clear window into the 4K Ultra HD world, where unrivaled picture quality is everything. With advanced local dimming LED backlight technology, support for Ultra HD streaming and unparalleled performance, VIZIO's P-Series Ultra HD Smart TV collection has been engineered to offer consumers best-in-class picture quality to deliver a comprehensive 4K Ultra HD solution. VIZIO P-Series Ultra HD Full-Array LED Smart TVs will start at $999.99 for the 50″ class.
Featuring the latest technologies, and four times the resolution of 1080p Full HD, the VIZIO  P-Series Ultra HD line-up offers stunningly rich picture quality performance, delivering a premium home entertainment experience. Full-Array LED backlighting allows for unmatched light uniformity, offering up to 72 Active LED Zones and setting the new standard for picture quality.  For a more vibrant, beautiful picture, each Active LED Zone dynamically adjusts to discretely control the backlight based on content on-screen, generating deeper black levels and higher contrast levels for a greatly enhanced picture compared to edge-lit LED sets.
Focused on bringing a well-thought-out 4K Ultra HD solution to market, VIZIO's new P-Series Ultra HD Smart TV collection integrates key technologies that help ensure consumers can enjoy a beautifully simple Ultra HD experience supporting the wide array of content options demanded by consumers.  A critical innovation VIZIO has been developing for over two years is its Spatial Scaling Engine, which accurately and beautifully transforms 1080p Full HD entertainment into spectacular near Ultra HD.  As consumption of media through streaming services continues to grow, the P-Series Ultra HD Smart TVs have been fully designed to support 4K Ultra HD streaming from providers like Netflix and later this year, Amazon Instant Video and UltraFlix.  Amazon Instant Video customers will be able to purchase Ultra HD movies and TV episodes with select Ultra HD titles available at no extra charge to Amazon Prime members through Prime Instant Video.
With an established track record introducing new technologies – such as LCD, LED and Smart TV – VIZIO has positioned itself to offer consumers an 4K Ultra HD solution that raises the bar in terms of picture quality and enhances the home entertainment experience that allows consumers to become more fully immersed in the worlds created by Hollywood.  P-Series carries the same beautifully simple pedigree of previous VIZIO offerings but delivers a new best-in-class Ultra HD entertainment experience.
On top of standout picture quality, P-Series Ultra HD Smart TV viewers interested in sports or quick moving content will appreciate VIZIO's Clear Action Rate 960. With an effective refresh rate of 240 Hz, Clear Action Rate 960 ensures viewers enjoy a crisp, smooth picture with superior motion clarity when watching their favorite fast action scenes. Beautifully crisp images are further enhanced by Advanced Color Management and Active Pixel Tuning technologies. These critical innovations perfect color, contrast and picture detail accuracy for an outstanding viewing experience.
Consumers can pre-order VIZIO's P-Series Ultra HD Full-Array LED Smart TV collection today at VIZIO.com. The line-up will soon begin rolling out both in-store and online through key retailers such as Amazon, Best Buy, Costco, Sam's Club, Target and Walmart.