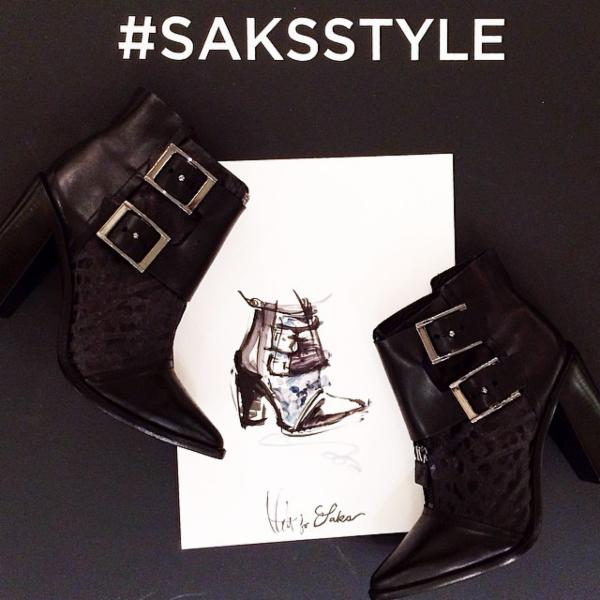 As editors, stylists, bloggers and tastemakers make their way to New York for Fashion Week, Saks Fifth Avenue is set to launch a user-generated content hub on Saks.com called #SaksStyle. This Fanreel hub, created by Curalate, will function as a daily go-to guide for fashion inspiration created solely by Saks customers, highlighting products purchased from Saks Fifth Avenue locations nationwide and online.
The #SaksStyle hub will collect content from not only Instagram, but Twitter, Facebook and Tumblr to aggregate photos and create a unique social sharing platform, making it the first of its kind and one of the most holistic shopping experiences in the social sphere. Even better, the #SaksStyle hub is shoppable, creating a 360 degree experience that turns Saks lovers into style icons whose shoppable selfies can inspire others to get their looks with a couple clicks.
"We are creating a community where our most style savvy customers can engage, shop looks within the photos on saks.com and be inspired by the fashion point of view of others," says Qianna Smith, Director of Social Media. "Our goal is to connect customers with similar interests in the most dynamic way possible, which meant breaking new ground by encompassing four of the most prominent social networks into one cohesive hashtag photo sharing experience."
Kathleen Ruiz, Senior Vice President, Marketing and PR adds, "We are excited to launch #SaksStyle, which provides a great experience for our customers to interact with each other online and gives us an instant insight as to what they are buying and loving."
A curated selection of images submitted by users will be populated on the hub on a daily basis creating a rewarding and inspiring vehicle for visitors. Visitors will have the ability to sort by popular and trending images – making it easy to see which user photos have received the most likes and comments. Customers will also be able to sort through images based on a specific product category. For example users can select to view only photos with Shoes and Handbags and sort by Most Popular images. Or if they want to see the most talked about Jewelry item, they can switch to Accessories and sort by Trending. 
In an effort to continue the omni-channel experience, all Saks Fifth Avenue Women's Ready-to-Wear and Contemporary departments will have vinyl decals in the fitting rooms, so that customers can bring to life the fashions that are too great not to share instantly.
The goal of the #SaksStyle hub is to reinforce Saks' innovation in both the retail market and in social media by creating a sense of community within its customer-base with an expanded notion of the shopping experience. By compelling shoppers who actively participate in social media with an inclusive avenue, it strengthens loyalty and broadens Saks' online visibility to a whole new range of consumers.
http://www.saksfifthavenue.com/saksstyle 
Photo: @masha.photo