Photos by LATF
For the past several years, LATF has experienced Los Angeles Times: The Taste on Labor Day weekend. Each year, the three day festival extravaganza grows and grows. More restaurants, Chefs, wineries, spirit companies and thousands of attendees. It is always a great event on the magical lot of Paramount Studios.
This time around, we stopped by Saturday evening's Dinner With A Twist, sponsored by Citi and Buick. The tents were larger, as was the demand for delicious cuisine, drinks and dessert. On the food end, we tasted Fundamental LA's deliciously tender brisket, Lemonade's fresh tomato salad and The Blvd's Chef Thomas Bellec's octopus on a fried risotto/rice bite. Some of our favorites of the night: Craig's Chef Kursten Kizer caviar plate and butterscotch dessert, Chef Matt Ranney's melt-in-your-mouth meat dish from The Village Idiot, food from Freshology's Raffi Asadourian and the best mole in Los Angeles, Rocio's Mole De Los Dioses from Sun Valley.
On the wine and spirit end, Francis Ford Coppola never disappoints with their wine. Bekseju's Korean drinks, including the ginger beer are memorable, as well as Treasury Wine Estates wine presentation, Avion Tequila and Sake One. As you walked around the historic studio lot, decorated with twinkle lights and tall tables, Buick displayed their sleek lineup of cars, from economy size to SUV. Attendees had the chance to enter to win a car.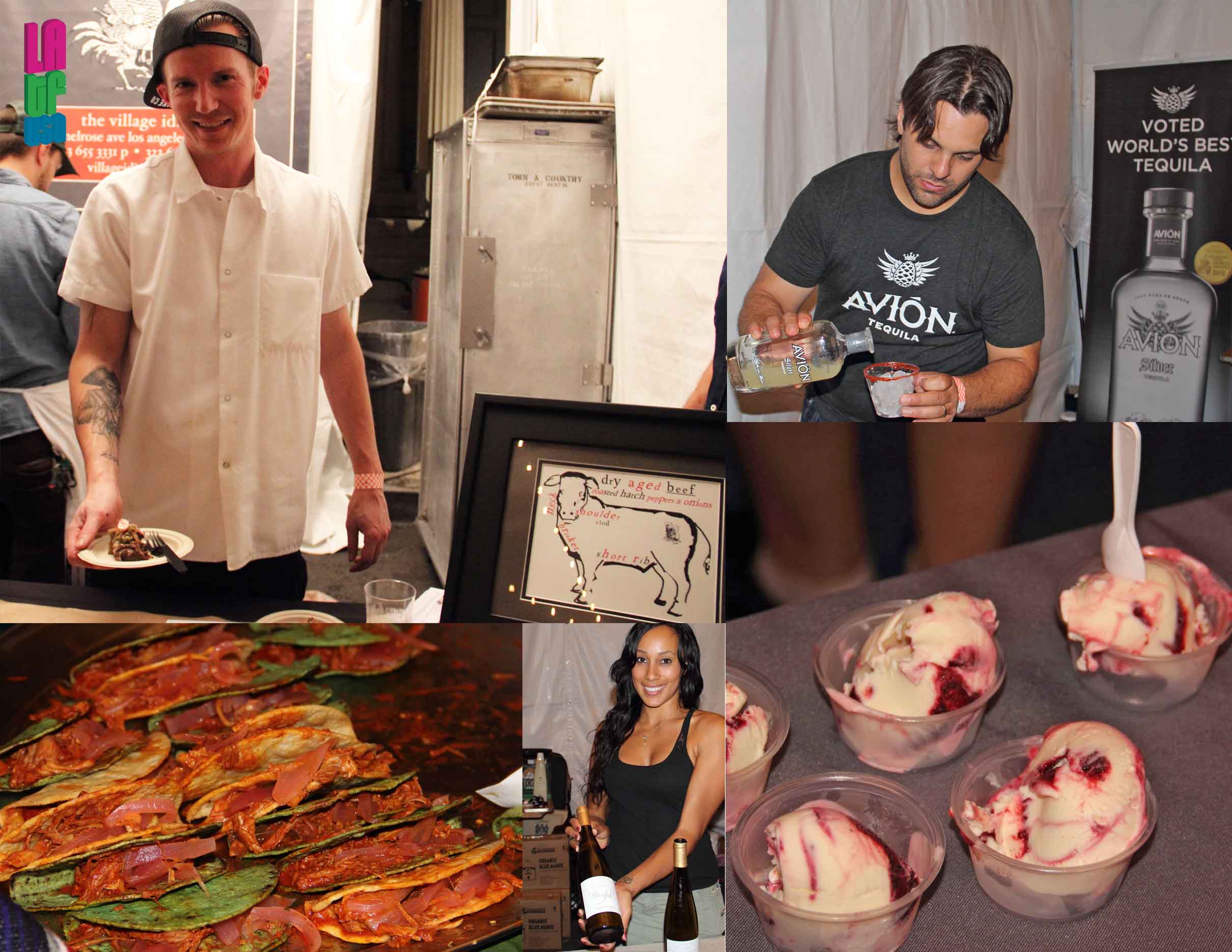 Rewind to Friday's Opening Night soiree. While revelers (including actress and comedian Kathy Griffin) feasted on crispy halibut tacos from The Church Key and miso donuts from Hinoki & the Bird among other savories and sweets, Black Crystal Wolf Kids captivated the crowd with their spirited takes on indie rock favorites. The world of food and music continued to intersect with a pop-up podcast of "Food is the New Rock," that included interviews with singer/songwriter Michelle Branch and Ray Suen from Childish Gambino.
 
The following day, Times Food Editor Russ Parsons joined forces with James Beard-award winning chef Nancy Silverton (Osteria Mozza/Pizzeria Mozza) for the locavore favorite Field to Fork, a daytime affair spotlighting seasonal ingredients and their expressions on the plate – whether at home or on the restaurant table. Silverton, Bruce Kalman (Union), Tal Ronnen (Crossroads) and C.J. Jacobson (Girasol), each led cooking demos inspired by locally-sourced produce, while Parsons moderated a compelling roundtable discussion about cooking with famers market finds with Roxana Jullapat (Cooks County), Josiah Citrin (Mélisse), Jessica Koslow (Sqirl) and Vincenzo Marianella (Copa d'Oro).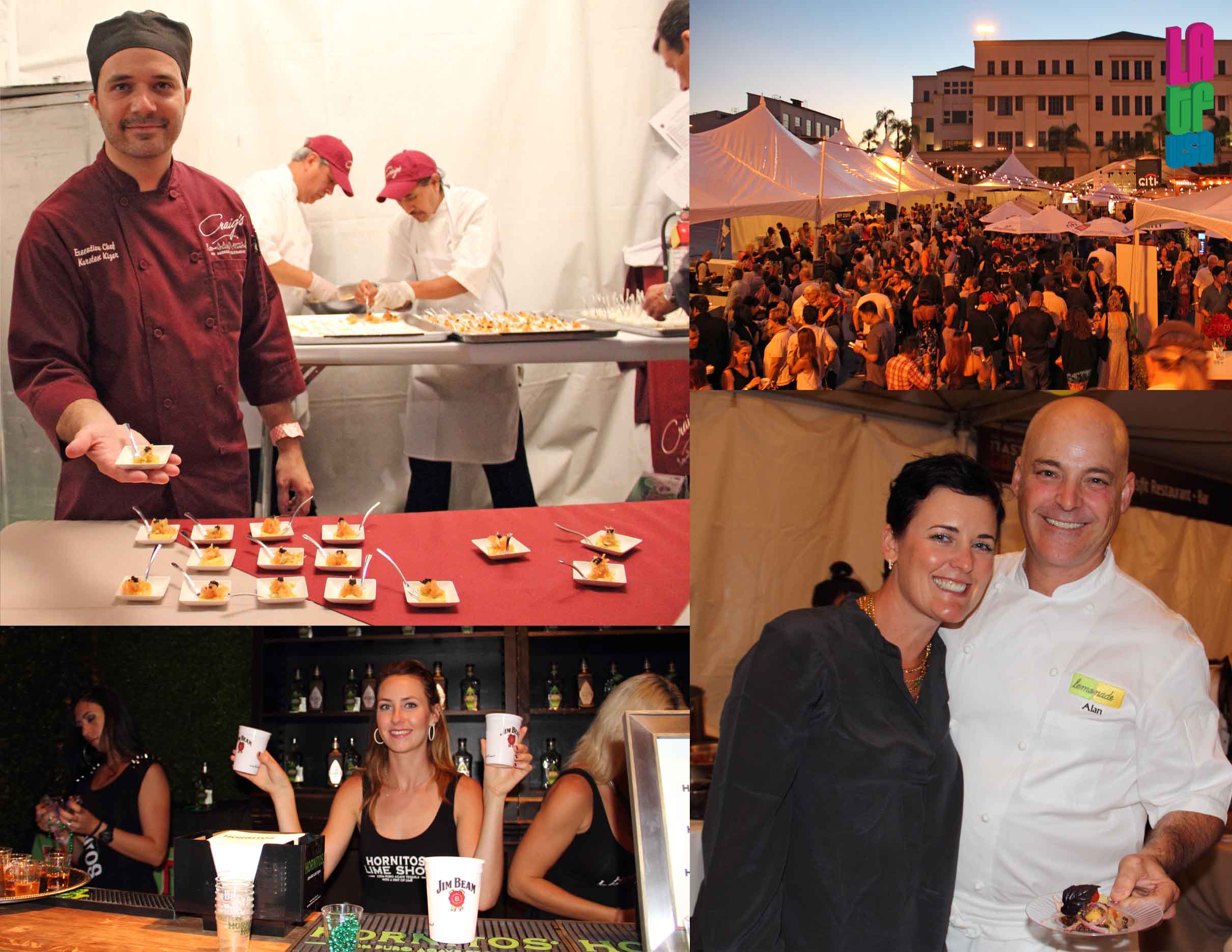 The final day of The Taste kicked off with the debut of Sunday Brunch, a family-friendly nod to one of Angelenos' favorite weekend pastimes, that was hosted by Noelle Carter, Times Test Kitchen Director, and the esteemed chef and restaurateur Thomas Keller (The French Laundry/Bouchon). While attendees beat the heat with non-alcoholic sparkling tea mimosas from Art of Tea, and satisfied their sweet teeth with brioche cinnamon rolls from Farmshop, Carter, Karen Hatfield (The Sycamore Kitchen/Hatfield's) and Casey Lane (The Tasting Kitchen) led cooking demos spotlighting brunch cuisine. Across the lot, Russ Parsons took the stage to lead a captivating discussion of 20 years of The French Laundry with Chef Keller and Laundry alums Jeff Cerciello (Farmshop), David Breeden (The French Laundry) and Timothy Hollingsworth (Broad Museum Restaurant).
 
Times Restaurant Critic Jonathan Gold closed out the festivities with the ultimate tribute to the city's diverse dining landscape with Sunday evening's Flavors of LA event, co-hosted by acclaimed chef Michael Cimarusti (Providence/Connie and Ted's).
Keep in touch with The Taste:http://events.latimes.com/taste/