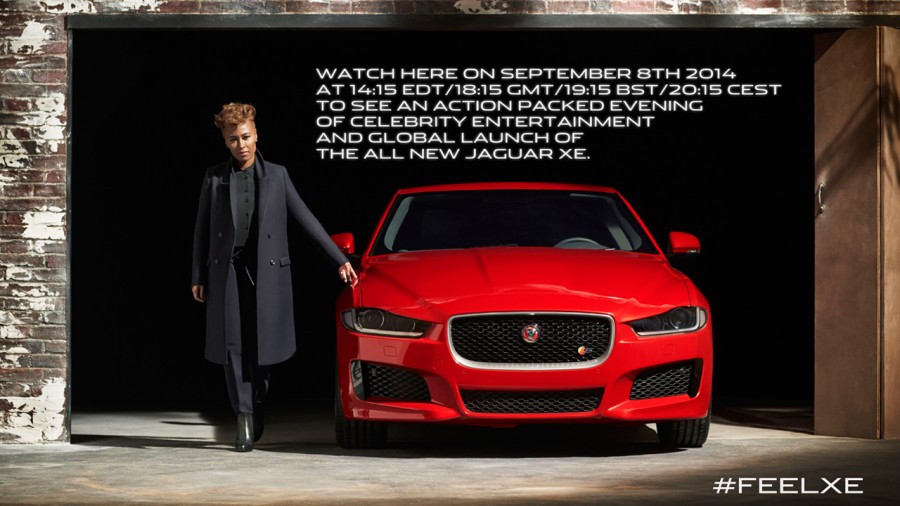 On the evening of September 8th, Jaguar will hold two special events in London to mark the unveiling of the new Jaguar XE. Celebrities including Stella McCartney, David Gandy, Brian Johnson, Kaiser Chiefs, Eliza Doolittle, Bruno Senna, Jodie Kidd and more will be in attendance.
The unveil of  the new Jaguar XE will be an exhilarating audio-visual spectacle that will be seen and heard across the Thames.  This event will be streamed live online at www.jaguar.com from 19:15 – 20:45 BST (18:15 – 19:45 GMT).
The star studded global reveal will feature an exclusive appearance by Emeli Sandé performing from a secret location alongside the Thames. The multi-platinum, British singer-songwriter created the song especially for the launch and the FEEL XE project. In order to secure inspiration for the song, Emeli and Jaguar asked the public "What makes you feel Exhilarated?". Using #FEELXE the public shared words, pictures, sounds and films with Emeli through social media (Twitter, Facebook and Instagram).
The Earls Court show will be narrated by actor John Hannah and will also feature special performances from artists including Emeli Sandé The Kaiser Chiefs and Eliza Doolittle.
A live webcast will feature a series of dramatic stunts and events across the Capital to mark the global unveil of the new Jaguar.
The Jaguar XE is a true sports saloon with class-leading dynamics, refinement and technology. It is also the most fuel efficient Jaguar ever to achieve over 75mpg.
Jaguar will bring levels of innovation never seen before in this segment – with its lightweight construction expertise and sophisticated chassis technology in addition to the new family of Ingenium engines – all designed, engineered and manufactured in the UK.
Built around an all-new, aluminium-intensive architecture, the XE combines thrilling performance, agile handling and precise, responsive steering, with outstanding levels of refinement and fuel efficiency.
 About the new Jaguar XE:
·         The XE is a true sports saloon with class-leading dynamics, refinement and technology
·         The most fuel efficient Jaguar ever to achieve over 75mpg
·         The Jaguar XE brings new levels of aluminium-intensive lightweight construction expertise to the segment
·         New aluminium alloy invented: RC5754 uses highly recycled aluminium to dramatically reduce energy consumption and lifecycle CO2
·         The high strength, rigid body enables world class driving dynamics – with supple ride and precise handling
·         The finely-honed F-TYPE-derived front suspension delivers accurate and immediate response
·         State-of-the-art electric power steering system delivers renowned Jaguar feel and response
·         Precise handling and high-quality ride is assured with Integral Link rear suspension; a layout designed for optimum performance, comfort and control
·         World-first All Surface Progress Control system ensures rear-wheel drive traction from standstill even in extreme conditions