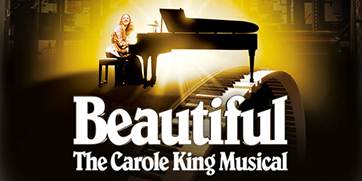 Producers Paul Blake and Sony/ATV Music Publishing announced today that the Tony® Award-winning hit BEAUTIFUL—The Carole King Musical, about the early life and career of the legendary and groundbreaking singer/songwriter, will make its L.A. Premiere at the Hollywood Pantages as part of the 2015-2016 Season. This announcement comes four weeks prior to the start of the Hollywood Pantages' already announced 2014-2015 Season.
 
Producers have also announced that The West End production of BEAUTIFUL will begin previews on February 10, 2015 at London's Aldwych Theatre, with an official opening night set for February 25, 2015.  The First American National Tour of Beautiful will launch in September 2015.
 
"Carole King might be a native New Yorker, but her story of struggle and triumph is as universal as they come – and her music is loved the world over," producer Paul Blake said.  "We know that audiences throughout the country and across the pond will embrace this show just as Broadway audiences have."
 
With a book by Tony and Academy® Award-nominee Douglas McGrath, direction by Marc Bruni and choreography by Josh Prince, BEAUTIFUL features a stunning array of beloved songs written by Gerry Goffin/Carole King and Barry Mann/Cynthia Weil.  BEAUTIFUL opened on Broadway in January 2014 at the Stephen Sondheim Theatre (124 West 43 Street), where it has broken every box office record.
 
BEAUTIFUL has consistently been one of Broadway's top grossing shows and sells out nightly, attracting such fans as Hillary Clinton, Kathie Lee Gifford & Hoda Kotb, Rosie O'Donnell, Tom Hanks, Simon Cowell and many more.
 
King, who famously didn't see the show on Broadway until a surprise visit on April 3, 2014 which made international headlines, has since said "What a gift – I loved it! The show so truly portrays the joy songwriters feel. It's now my favorite show on Broadway!"
 
The Original Broadway Cast Recording of BEAUTIFUL – The Carole King Musical (Ghostlight Records) is available on CD, digitally, and on vinyl and can be purchased at http://www.sh-k-boom.com, iTunes, Amazon, or wherever CDs are sold.
 
Casting and other information about the West End and touring productions of BEAUTIFUL will be announced at a later date.
 
Long before she was Carole King, chart-topping music legend, she was Carol Klein, Brooklyn girl with passion and chutzpah. She fought her way into the record business as a teenager and, by the time she reached her twenties, had the husband of her dreams and a flourishing career writing hits for the biggest acts in rock 'n' roll.  But it wasn't until her personal life began to crack that she finally managed to find her true voice.  BEAUTIFUL tells the inspiring true story of King's remarkable rise to stardom, from being part of a hit songwriting team with her husband Gerry Goffin, to her relationship with fellow writers and best friends Cynthia Weil and Barry Mann, to becoming one of the most successful solo acts in popular music history.   Along the way, she made more than beautiful music, she wrote the soundtrack to a generation.
 
The creative team, which will reprise their work for the West End and touring productions, also includes Derek McLane (Set Design), Alejo Vietti (Costume Design), Peter Kaczorowski (Lighting Design), Brian Ronan (Sound Design), Charles G. LaPointe (Wig and Hair Design), Steve Sidwell (Orchestrations and Music Arrangements), Jason Howland (Music Supervision) and John Miller (Music Coordination).
 
BEAUTIFUL – The Carole King Musical is produced on Broadway by Paul Blake, Sony/ATV Music Publishing, Jeffrey A. Sine, Richard A. Smith, Mike Bosner, Harriet N. Leve/Elaine Krauss, Terry Schnuck, Orin Wolf, Patty Baker/Good Productions, Roger Faxon, Larry Magid, Kit Seidel, Lawrence S. Toppall, Fakston Productions/Mary Solomon, William Court Cohen, John Gore, BarLor Productions, Matthew C. Blank, Tim Hogue, Joel Hyatt, Marianne Mills, Michael J. Moritz, Jr., StylesFour Productions, Brunish/Trinchero, and Jeremiah J. Harris.
 
For more information, visit www.BeautifulonBroadway.com.
 
Visit the official website for the Hollywood Pantages: www.HollywoodPantages.com.