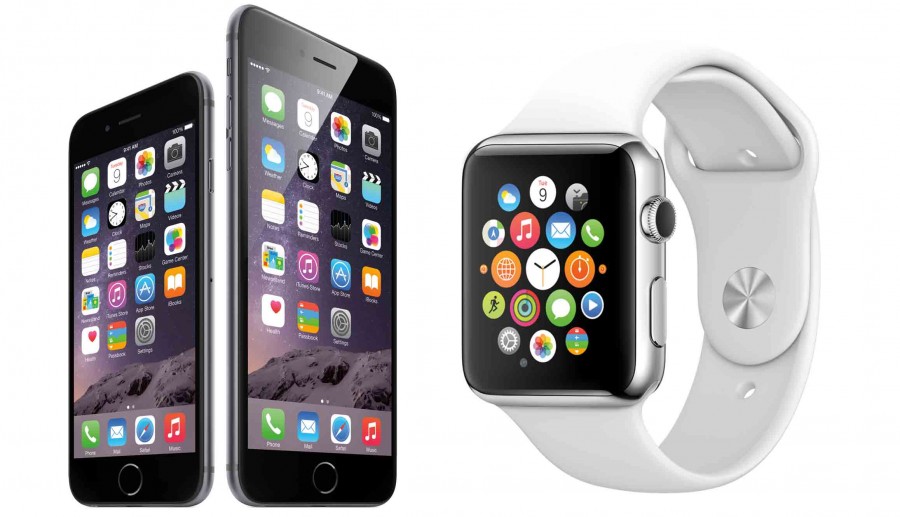 Apple's big announcement day didn't just have to do with the iPhone 6. The tech empire also unveiled Apple Watch™—featuring what they are calling revolutionary new technologies and a pioneering user interface with a design that honors the rich tradition of precision watchmaking.
"Apple introduced the world to several category-defining products, the Mac, iPod, iPhone and iPad," said Tim Cook, Apple's CEO. "And once again Apple is poised to captivate the world with a revolutionary product that can enrich people's lives. It's the most personal product we've ever made."
Apple Watch introduces Digital Crown that provides an innovative way to scroll, zoom and navigate. The Digital Crown is Apple's most revolutionary navigation tool since the iPod® Click Wheel and iPhone® Multi-Touch™. Apple Watch will enable you to communicate in new ways right from your wrist by sending and receiving messages, answering calls to your iPhone, and with Digital Touch, sending something as personal as your own heartbeat. Apple Watch also introduces comprehensive health and fitness apps that can help people lead healthier lives. Apple Watch is available in three distinct collections—Apple Watch, Apple Watch Sport and Apple Watch Edition.
"With Apple Watch, we've developed multiple technologies and an entirely new user interface specifically for a device that's designed to be worn. It blurs the boundary between physical object and user interface," said Jony Ive, Apple's senior vice president of Design. "We've created an entire range of products that enable unparalleled personalization."
On the iPhone front, iPhone® 6 and iPhone 6 Plus are featuring two new models with 4.7-inch and 5.5-inch Retina HD displays, and packed with innovative technologies in an all-new dramatically thin and seamless design. The new iPhones feature a precision unibody enclosure of anodized aluminum that conforms seamlessly with the shaped glass of the display, resulting in a completely smooth and continuous surface. iPhone 6 and iPhone 6 Plus are engineered to be the thinnest ever, delivering a bigger display in a design that is still comfortable to hold and easy to use.
Packed with innovative new technologies, iPhone 6 and iPhone 6 Plus include: the Apple-designed A8 chip with second generation 64-bit desktop-class architecture for blazing fast performance and power efficiency; advanced iSight® and FaceTime® HD cameras; ultrafast wireless technologies; and Apple Pay™, an easier way to simply and securely make payments with just the touch of a finger.¹ Both models include iOS 8, the latest version of the world's most advanced mobile operating system, featuring a simpler, faster and more intuitive user experience with new Messages and Photos features, QuickType™ keyboard, a new Health app, Family Sharing and iCloud Drive℠.
"iPhone 6 and iPhone 6 Plus are the biggest advancements in iPhone history," said Tim Cook, Apple's CEO. "The iPhone is the most loved smartphone in the world with the highest customer satisfaction in the industry and we are making it much better in every way. Only Apple can combine the best hardware, software and services at this unprecedented level and we think customers are going to love it."
For the first time iPhone is available in two new sizes: iPhone 6 features a stunning 4.7-inch Retina® HD display with 1334 x 750 resolution, providing 38 percent more viewing area than iPhone 5s, while iPhone 6 Plus features an even bigger 5.5-inch Retina HD display with 1920 x 1080 resolution, providing 88 percent more viewing area and nearly three times the pixels than iPhone 5s. The Retina HD displays offer advanced technologies including higher contrast for deeper blacks and dual-domain pixels for more accurate colors at wider viewing angles.
With second generation 64-bit desktop-class architecture, the all-new A8 chip offers faster performance and is more energy efficient, delivering higher sustained performance with great battery life. With Metal™, a new graphics technology in iOS 8, developers can take performance of the A8 chip even further to bring console-class 3D games to iPhone. The A8 chip also includes a new, powerful Apple-designed image signal processor that enables advanced camera and video features.
So the question is, are you waiting in line for the watch or the iPhone 6?