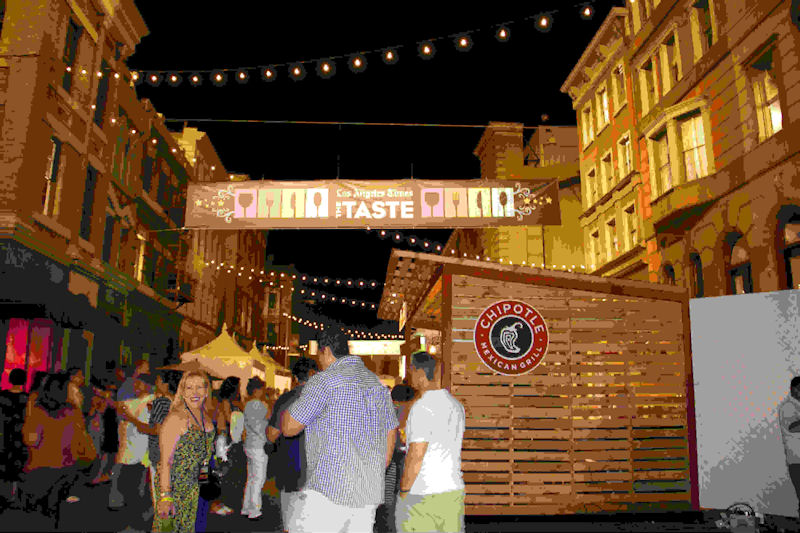 The Taste takes over Paramount studios for its annual Labor Day weekend celebration of the Southern California culinary scene. A who's-who of Times critics' best-reviewed restaurants – Girasol, Plan Check Kitchen + Bar, Fishing with Dynamite, Border Grill, Chichén Itzá, Acabar – is set to serve signature dishes during the three-day festival with more to come.
Inspired conversations led by The Times Food staff will include chef and bartender insights on shopping the farmers market, a look at the history and influence of The French Laundry, and an exploration of foraged and found foods. Engaging cooking demos with James Beard Outstanding Chef Nancy Silverton (Pizzeria and Osteria Mozza), esteemed pastry chef Karen Hatfield (The Sycamore Kitchen, Hatfield's), rising star Bruce Kalman (Union) and others will give attendees a glimpse into the city's most revered kitchens.
The Taste will transform Paramount Pictures Studios' backlot into the ultimate epicurean pop-up and block party Friday, August 29th through Sunday, August 31st:
 Opening Night; Fri., Aug. 29th, 7:30 to 11:00 p.m.
The Times' renowned Food staff, the festival's co-hosts, and participating chefs and bartenders gather for a soiree with a focused collection of tastings, premium cocktail and wine offerings, and live entertainment. Restaurants include CAFÉ del REY, DeSano Pizza Bakery, Girasol, Guelaguetza, Hamasaku, Mexicali Taco & Co., Pedalers Fork, Phorage, Plan Check, Sotto, Sushi Roku, THE Blvd Restaurant, Waterloo & City.
Field to Fork – Hosted by Russ Parsons, Times Food Editor, and Nancy Silverton, Chef/Co-Owner of Osteria Mozza and Pizzeria Mozza; Sat., Aug. 30th, 11 a.m. to 3 p.m.
Local flavors shine at this day defined by fresh, seasonal ingredients with demos from Silverton, Tal Ronnen (Crossroads), C.J. Jacobson (Girasol) and Bruce Kalman (Union). In addition to wine seminars that inspire the palate, the event will feature a roundtable about cooking with famers market finds moderated by Parsons with Roxana Jullapat (Cooks County), Josiah Citrin (Mélisse), Jessica Koslow (Sqirl) and Vincenzo Marianella (Copa d'Oro). Restaurants include BOA Steakhouse, Chichén Itzá, Eveleigh, Girasol, Lemonade, Lotería Grill, Lum-Ka-Naad Thai, Michaels on Naples, Napa Valley Grille, Palihouse Brasserie, Pono Burger, Tender Greens.
Dinner with a Twist – Hosted by Betty Hallock, Times Deputy Food Editor, Jonathan Gold, Times Restaurant Critic, John Sedlar, Chef/Owner of Rivera, and Master Bartender Julian Cox; Sat., Aug. 30th, 7:30 to 11:00 p.m.
LA's formidable cocktail and culinary cultures collide with demos from chef & bartender duos including Sedlar & Cox, Ricardo Zarate & Deysi Alvarez (Mo-Chica, Picca, Paiché) and Michael Hung & Michael Lay (Faith & Flower). The collaborative spirit continues with a group demo featuring Alex Day & David Kaplan (Proprietors LLC), Max Deaman & Mikki Kristola (The Varnish) and Naomi Schimek (The Spare Room). Restaurants include BierBeisl, Carnitas El Momo, Craig's Restaurant, Grub, Public School on Tap, RivaBella, Sotto, The Churchill, The Misfit Restaurant + Bar, The Raymond.
Sunday Brunch – Hosted by Noelle Carter, Times Test Kitchen Director, and Thomas Keller, Chef/Proprietor of The French Laundry and Bouchon; Sun., Aug. 31st, 11 a.m. to 3 p.m.
Brunch gets its due at a family-friendly affair with demos from Carter, Karen Hatfield (The Sycamore Kitchen, Hatfield's) and Casey Lane (The Tasting Kitchen). Russ Parsons will be on hand to discuss 20 years of The French Laundry with Chef Keller and Laundry alums Jeff Cerciello (Farmshop), David Hands (Bouchon Bistro) and Timothy Hollingsworth (Broad Museum Restaurant). Melissa Nicola (Nic's Beverly Hills) will join Times columnist Steve Lopez to share edible creations from the students at CAKE (Culinary Arts Kids Eat). Restaurants include Del Rey Deli Co., Guelaguetza, Lotería Grill, Muddy Leek, my two cents, THE Blvd Restaurant, Wilshire Restaurant.
Flavors of LA – Hosted by Jonathan Gold, Times Restaurant Critic, and Michael Cimarusti, Chef/Owner of Providence, Chef/Partner of Connie and Ted's;Sun., Aug. 31st, 7:30 to 11:00 p.m.
The closing night spotlights the city's rich and varied tastes with demos from Cimarusti, Evan Kleiman (KCRW's "Good Food"), Jimmy Shaw (Lotería Grill) and Amelia Posada (Lindy & Grundy). Exploring the art and science of foraging, Gold will talk found fare with chefs Ari Taymor (Alma) and Wes Avila (Guerrilla Tacos) and wild food expert Pascal Baudar. Culinary mixologist Tricia Carr will cap off the evening with a crushed cocktails how-to. Restaurants include Acabar, Ayara Thai Cuisine, Border Grill, Fishing with Dynamite, Horse Thief BBQ, Manhattan Beach Post, Meals by Genet, Mr. Chow, Osteria and Pizzeria Mozza, Phorage, Pine & Crane, Urban Garden.
Los Angeles Times The Taste presented by Citi is produced in association with Best Events. Sponsors include AT&T, Buick, Hornitos Tequila and Stella Artois. Opening Night tickets are $150. Tickets for each of the Saturday and Sunday events range from $100 to $125, and a $25 discount on individual tickets is available exclusively to Los Angeles Times members. Details and tickets: latimes.com/thetaste. Connect on Facebook, Twitter and Instagram @ TheTasteLA (#TasteLA).