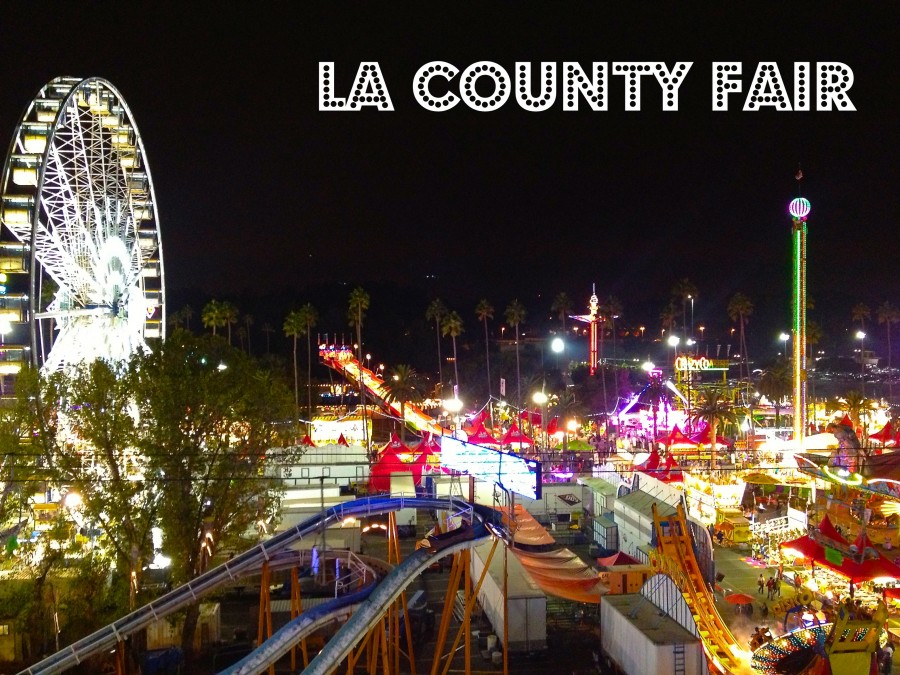 The Los Angeles County Fair kicks off its 92ndanniversary by opening its doors to new worlds of discovery, where oversized custom-built lanterns abound; where zonkeys and kangaroos roam; where award-winning beer and wine can be sampled; where world-class entertainment takes the stage. The Fair runs from Aug. 29-Sept. 28.
LACF lights up the night with Luminasia. A larger-than-life Chinese lantern display, Luminasia takes the ancient art form of lantern making to a whole new level. Visitors stroll through colorful replicas of iconic landmarks – the Great Wall, the Hollywood Sign, the Eiffel Tower – as well as giant dragons, flowers and a pagoda. The lanterns were handmade by nearly 50 artisans who traveled more than 7,000 miles from Zigong, China to transform LACF's hillside into an evening attraction that is both breathtaking and whimsical.
The all-new Hall of Heroes celebrates the science behind beloved superheroes of comic book and real-life fame. Enter LACF's Metropolis and come face to face with Batman, Spiderman and Superman as well as the law enforcement officers who risk their lives every day to protect and serve.
Animals abound at Mojo's Wild & Crazy Lagoon. LACF's resident Weeper Capuchin monkey, Mojo, and her friends have a new home on the water and are primed to engage in some monkey business. Also catch sea lions at Beneath the Sea and read your way to adventure in America's Kids, where we are celebrating  the  exciting worlds of children's literature.
The Farm at Fairplex is growing – literally – with the addition of three more acres and hundreds of California specialty crops. A must-have this year at the Farmhouse Grill is the new wood-grilled flat bread filled with a variety of toppings harvested from LACF's organic farm. Add in our Big Red Barn full of animals, and you have agri-tainment at its best.
Satisfy all your favorite food cravings in one location – deep-fried, on-a-stick, ooey, gooey, barbecued, dipped in chocolate and just plain delicious. Visitors could eat at LACF for every meal every day of the Fair and not eat the same thing twice. With more than 300 choices (including Mexican, Italian, Asian and Greek flavors, along with L.A.'s best food trucks), it's easy to see why food is one of the top two reasons guests visit LACF. New this year: Ramen burgers, Sriracha corndogs, funnel cake corndogs, Tequila-infused pickle poppers, and a complete gluten-free menu.
Called the largest shopping place this side of the Mississippi, LACF's Shopping Marketplace features items that can't be found anywhere else. More than 500 vendors offer great prices on gadgets and products for home, electronics, jewelry, furniture and everything in between.
The End of Summer Concert Series, presented by Toyota, brings the best in rock, pop, R&B and Latin music to the LACF Grandstand, including Charlie Wilson; Neon Trees; Ramon Ayala y sus Bravos Del Norte; Third Day & MercyMe; R5; Martina McBride; Heart; Earth, Wind & Fire; and Flip Fest: Monster Truck & Motocross Stunt Spectacular. Limited numbers of free general admission concert tickets are offered the day of each concert. Reserved tickets may be purchased at ticketmaster.com and lacountyfair.com.
When the concert ends, dance the night away at our all-new Grinding Gears nightclub. Open for all ages, Grinding Gears features a live band, aerial artists and a DJ spinning the latest, greatest tunes each and every night.
Returning fan favorites include the Carnival with more than 70 exciting rides; Esmeralda's Traveling Circus with trapeze and aerial acts performing death-defying stunts; the Flower & Garden Pavilion highlighting the flora and fauna of China; and tasting classes and sampling at the Wine, Spirits & Beer Marketplace.
Discover LACF with your friends, family or that special someone. Visit lacountyfair.com, facebook.com/lacountyfair and Twitter @lacountyfair, for more information including promotions and ticket prices.
Calendar Listing:
Los Angeles County Fair, Aug. 29-Sept. 28, Fairplex, Pomona. The 92nd anniversary of the country's largest county fair includes Luminasia, Hall of Heroes, End of Summer Concert Series, Carnival, Animals, Food and Shopping. Closed Weds., Sept. 3 and Mondays (except Labor Day) and Tuesdays. Visit www.lacountyfair.com for admission, hours and more information. General information:
(909) 623-3111.