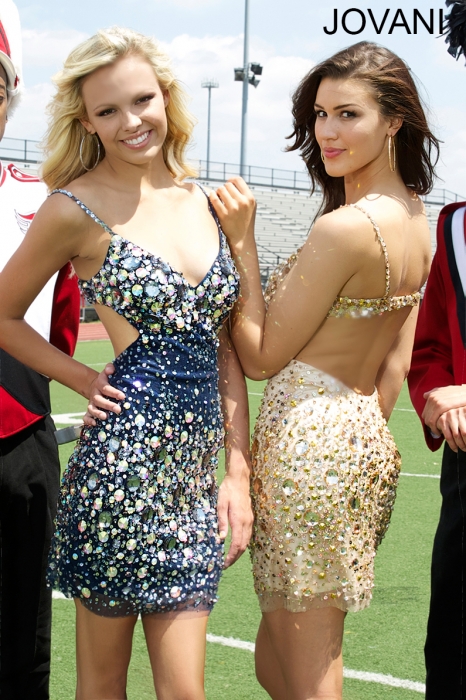 With the beginning of the school year, homecoming will be one student's minds. Jovani dress designer looks into the best way to choose your homecoming dress…
Jovani says to find a dress that accentuates your own unique personality – be it classical beauty, funky rockstar, or sophisticated artiste. So to help you sort through the high couture gowns and cocktail dresses to find the right match for your personal tastes, here are 4 of the top styles you'll find from Jovani this season:
Jovani short dress 20090: This beaded lace dress, featuring a cap sleeve and sexy V-neck sheer panel, is the perfect choice for fierce ladies looking to show a little moxy on the dance floor!
Jovani Couture Dress 98471 is the dress for ladies who want regal elegance with a truly sophisticated flair. For girls who are looking to show their mature side for the new school year…you can't do better than this exquisite dress.
When making their debut on the night of the dance, some girls just want to feel like a princess, and with Jovani Evening Dress 98879, they absolutely will. The strapless gown features intricate beading at the waistline, a ruched top bodice, and an A-line skirt. Even Elsa from Frozen would eat her heart out!
Let's be honest, at the end of the day, some girls really do just want to have fun, and you can show your flirty side to the world in this pink puffy dress! It's a dress with a personality as effervescent as your own!
Visit the Jovani website at www.Jovani.com