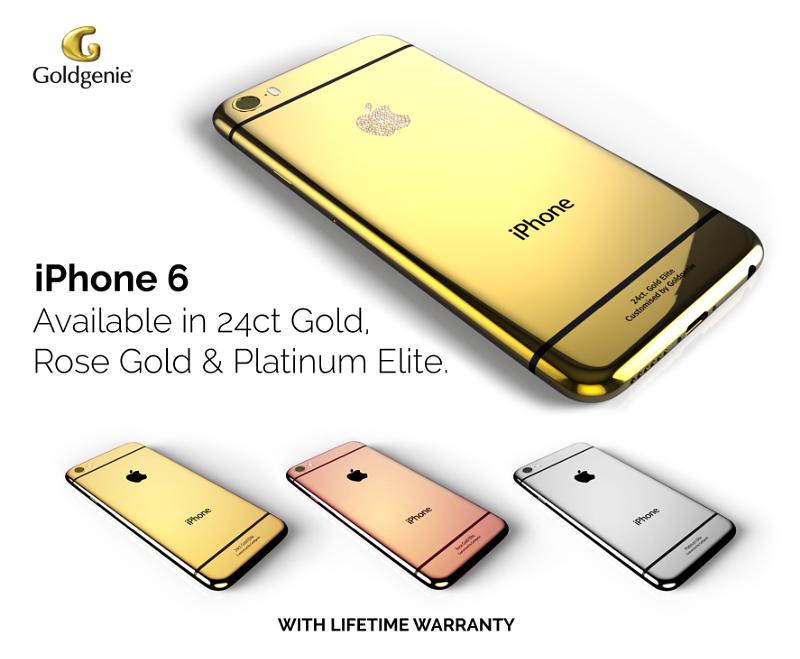 You thought your iPhone was gold? London-based Goldgenie specializes in gold plating. They were the first to embellish the iPhone 3 in 24ct Gold when Apple first launched the groundbreaking device in 2007. So if you're looking to bling bling your iPhone luxury style, Goldgenie has the 24ct gold iPhone casing. 
Due to Goldgenie's established special relationships with premium Apple resellers, a limited number of iPhone 6 smartphones have been reserved for Goldgenie's pre-ordering clients, available for customisation immediately after Apple's release date. Goldgenie are now taking pre-orders online and over the phone to ensure their customers receive their luxury customised iPhone 6 smartphones soon after Apple's launch.
They are including a lifetime warranty on both the customisation and device itself, guaranteeing complete satisfaction.
Goldgenie are also guaranteeing availability of the new customised iPhone 6 at the existing 24ct Gold iPhone 5s range, so prices start at £2,197.50 or $3,700 to customers who place a 50% deposit before the launch. The balance will be due at the time of Apple's release and Goldgenie will work hard to deliver their exquisite customised versions soon after. The iPhone will be available in Goldgenie's classic 24ct Gold, Rose Gold and Platinum Elite editions and a specific limited collection designed for the Gulf region, celebrating their contribution to global commerce and business development, which will also be available for pre-order today. Each iPhone will also come complete with its own Luxury Cherry Oak presentation Box. Goldgenie had over 1,436 luxury customised iPhone 5s orders within the first 3 months of Apple's launch and are now preparing to ensure clients who pre-order are the first to receive their luxury iPhone 6 soon after it becomes available.
Pre-Order page: