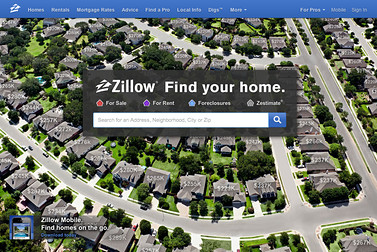 Two real estate big shots, Zillow, Inc. and Trulia have made deal. Zillow operates the leading real estate and home-related information marketplaces on mobile and the Web. Truliagives home buyers, sellers, renters and real estate professionals all the tools and  information they need to be successful in the home search process. Zillow today announced that it has entered into a definitive agreement to acquire Trulia, Inc. for $3.5 billion in a stock-for-stock transaction.
The Boards of Directors of both companies have approved the transaction, which is expected to close in 2015.
The combined company will maintain both the Zillow and Trulia consumer brands, offering buyers, sellers, homeowners and renters access to vital information about homes and real estate for free, and providing advertising and software solutions that help real estate professionals grow their business.  At closing, Trulia CEO Pete Flint will remain as CEO of Trulia reporting to Zillow CEO, Spencer Rascoff, and will join the Board of Directors of the combined company. In addition, at closing, a second member of Trulia's Board of Directors will join the board of the combined company. Further operational and organizational details will be announced at closing.
"Consumers love using Zillow and Trulia to find vital information about homes and connect with the best local real estate professionals," Rascoff said. "Both companies have been enormously successful in creating compelling consumer brands and deep industry partnerships, but it's still early days in the world of real estate advertising on mobile and Web. This is a tremendous opportunity to combine our resources and achieve even more impressive innovation that will benefit consumers and the real estate industry."