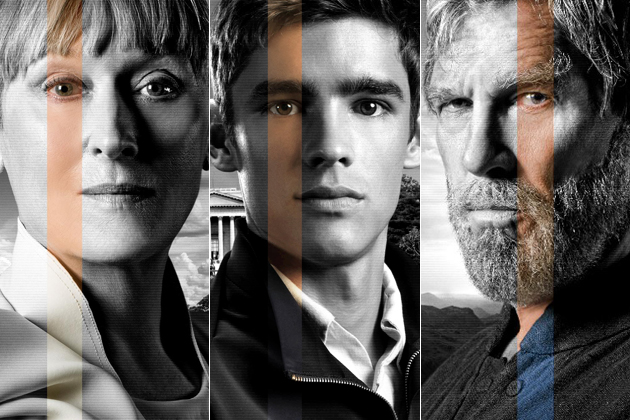 Photo Is Credited To The Weinstein Co.

The Weinstein Company announced "The Giver Movie Premiere for Good" in partnership with CrowdRise and Eventbrite. The event gives movie fans an unparalleled opportunity to attend a major movie premiere with their favorite stars, by participating in an online fundraising campaign for the arts.
The Giver Movie Premiere for Good event is the inaugural campaign of a new collaboration between Eventbrite and CrowdRise, designed to provide nonprofits, companies and individuals everywhere the ability to merge charitable giving and live events. The 100 fans to raise the most money will attend the premiere in New York City. The more money a fan raises, the closer she or he will sit to the cast and crew. The top 10 fundraisers will get seats in an exclusive VIP section, tickets to the after party and a meet and greet with celebrities. Donors will also be entered to win cool prizes from event sponsors like Uber and from members of the cast. For example, anyone who makes a donation to any fundraiser's page will have a chance to win a Taylor Swift guitar signed personally to the winner by Swift.
Jeff Bridges, Katie Holmes and Brendan Thwaites will encourage fans to launch fundraisers and donate to the effort. "I'm excited to be a part of this campaign, and love the idea of turning a movie premiere into a vehicle for social impact," said Bridges. "I look forward to seeing the people who raise the most at the premiere."
"CrowdRise is a great organization that will give fans the once-in-a-lifetime opportunity to join the cast at the premiere of 'The Giver' in New York like Meryl Streep, Katie Holmes, Jeff Bridges, Taylor Swift, Alexander Skarsgard, Brenton Thwaites, Odeya Rush and Cameron Monaghan," said Harvey Weinstein, Co-Chairman of The Weinstein Company. "The evening will be like no other. I'm very grateful that the cast of the film and their fans are behind this unique opportunity to support the arts."
Beginning July 8 through August 1 at 2:00 p.m. EDT, fans can sign up at www.crowdrise.com/thegiver4good to participate in The Giver Movie Premiere for Good on Eventbrite and then kick-off their fundraising efforts on CrowdRise to attend the premiere. Leveraging Eventbrite's online seating map, fundraisers can earn the ability to sit near select cast and crew of The Weinstein Company's The Giver, including Bridges, Holmes and Thwaites.
"We're constantly looking for ways to make CrowdRise more fun, innovative and engaging. The Giver Movie Premiere For Good is a perfect example. It's not just about raising money for the arts, but also about democratizing a very 'Hollywood' experience: the movie premiere," said CrowdRise Co-Founder Edward Norton. "Integrating with Eventbrite is huge for us. It will enable us to support campaigns that turn all sorts of live events into huge fundraisers. We couldn't think of a better partner than The Weinstein Company to launch the functionality with."