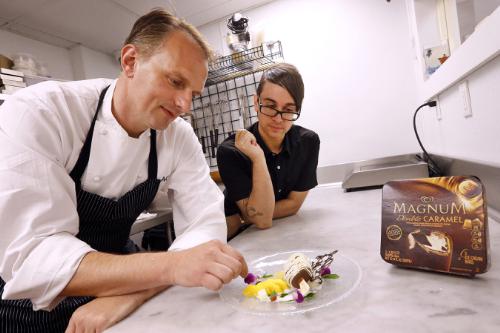 Magnum Ice Cream, the brand recognized for its unique fashion partnerships since its U.S. launch in 2011, has announced a first-of-its-kind collaboration between American fashion designer Christian Siriano and James Beard Award-winning chef Andrew Carmellini to create "America's Most Fashionable Chocolate Dessert."
Through the collaboration, Magnum is bringing together this summer's top fashion trends with premium seasonal culinary ingredients to create a fashion-forward, indulgent dessert featuring a Magnum Double Caramel Ice Cream bar, made with the brand's signature Belgian chocolate.
"America's Most Fashionable Chocolate Dessert" combines the finest premium ingredients seen on the menus of Chef Carmellini's restaurants this season, and infuses Christian Siriano's style expertise in a decadent dish that includes:
Magnum signature dark and milk chocolate drizzled in a lattice effect to mimic trending textures such as modern embroidered lace and tribal textiles
Tropical fruits such as coconut, lime, bruleed champagne mango and pickled pineapple artfully displayed to highlight this season's citrus color blocking trend
Edible flowers to showcase the pantone color of the year, Radiant Orchid
Like Magnum, Chef Carmellini and Christian Siriano each share a commitment to fine craftsmanship and to using premium ingredients or materials in their creations – from rich Magnum chocolate, to seasonal produce and exquisite fabrics.
"Quality, seasonal ingredients are the foundation of my menus, and I enjoy the creative process," said Chef Carmellini. "But I've never crafted a dish using trends from the world of fashion. Creating a dessert with Magnum Ice Cream that looks like it could be on the cover of a fashion magazine was a fun challenge."
When describing the dessert, Siriano commented, "I'm a bit of a foodie, but have never applied my design input to anything on a culinary front. I loved pulling together my favorite summer trends, such as lace and citrus color blocking, and seeing them translated into such a stylish dessert."
Fashionistas and foodies alike can create their own Magnum Ice Cream chocolate dessert at home, with a recipe created by Chef Andrew Carmellini and inspired by "America's Most Fashionable Chocolate Dessert", by visiting Magnum on Facebook (www.Facebook.com/magnum) or Tumblr (http://bit.ly/MAGNUMRecipe).