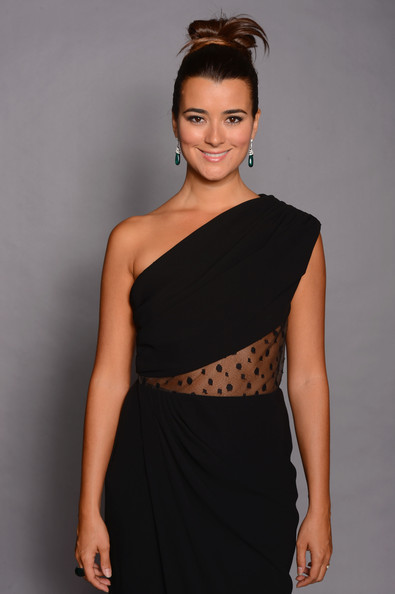 Cote de Pablo will star in "The Dovekeepers," a four-hour CBS miniseries event from executive producers Roma Downey and Mark Burnett, which will be broadcast in 2015. The project is based on Alice Hoffman's acclaimed historical novel about four extraordinary women whose lives intersect in a fight for survival at the siege of Masada.
De Pablo will play Shirah, one of the four women, who is a sensual, mysterious and fiercely independent single mother with uncanny insights and a quiet and mysterious power. She is derided by many as the "Witch of Moab," as she covertly practices forbidden ancient rites of magic and is keenly knowledgeable about herbal remedies. However, those in need don't hesitate to approach her for her help and generosity of spirit.
"We are thrilled to have Cote de Pablo starring in 'The Dovekeepers,'" said Roma Downey.  "Her talent, strength and beauty will light up the screen in the important role of Shirah."
Cote de Pablo starred as Special Agent Ziva David for eight seasons on the hit series "NCIS."Her additional television credits include a starring role in the series "The Jury" and guest appearances on "The $treet," "Fling" and the Network's "The Education of Max Bickford." In addition, she hosted a popular Latin-themed television talk show, "Control," with media personality Carlos Ponce. She received an Imagen Award and an Alma award for Best Supporting Actress in a Drama Series, and she was nominated for both awards in the same category the following year as well.
Her feature film credits include the upcoming project "The 33," based on the true story of the rescued Chilean miners, which also stars Antonio Banderas and Juliette Binoche. Her feature film debut was in "The Last Rites of Ransom Pride" from director Tiller Russell, with Kris Kristofferson, Dwight Yoakam and Jason Priestley.
Set in ancient Israel, "The Dovekeepers" is based on the true events at Masada in 70 C.E. After being forced out of their home in Jerusalem by the Romans, 900 Jews were ensconced in a fortress at Masada, a mountain in the Judean desert. Besieged at Masada, the Jews held out for months against the vast Roman armies. The miniseries will recount the unfolding events from the perspective of four extraordinary women who arrive at Masada with unique backstories, but who share a common bond for survival.
Executive producers Downey and multiple Emmy Award winner Burnett ("Survivor," "The Voice"), under their banner LightWorkers Media, are the production team behind the Emmy-nominated 10-hour miniseries "The Bible," which scored big ratings last year, and the feature "Son of God."
Frank Siracusa, John Weber and Yves Simoneau also serve as executive producers, with Simoneau directing. Ann Peacock is adapting the novel for the screen.