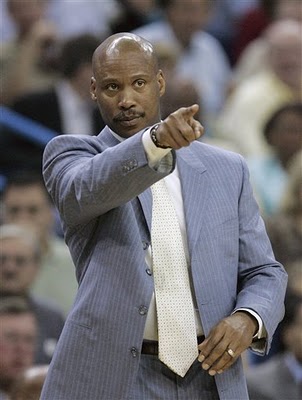 The Los Angeles Lakers have signed Byron Scott to a multi-year contract as head coach, it was announced today by General Manager Mitch Kupchak. Per team policy, terms of the agreement were not released.
"After an extensive and thorough search, we're proud to welcome Byron back to the Lakers family as our next head coach," said Kupchak. "Byron has proven himself at the highest levels of the game as both a player and a coach in his almost 30 years of NBA experience. His leadership skills and track record for success make him the ideal person to lead this franchise forward."
"I am ecstatic to once again be a Laker and to have the opportunity to work alongside Mitch and the Buss family," said Scott. "I know firsthand what it takes to bring a championship to this city, and as someone who both grew up in L.A. and played the majority of my career here, I know how passionate and dedicated our fans are. I will give everything I have to fulfill the championship expectations that our supporters have for us, and that we have for ourselves."
The Inglewood, CA native becomes the 25th head coach in franchise history and 21st in the Los Angeles era, after previously amassing 416 wins over 13 seasons as head coach with the New Jersey Nets (2000-2004), New Orleans/Oklahoma City Hornets (2004-2009) and Cleveland Cavaliers (2010-2013). Scott began his coaching career as an assistant with the Sacramento Kings for two seasons beginning in 1998.