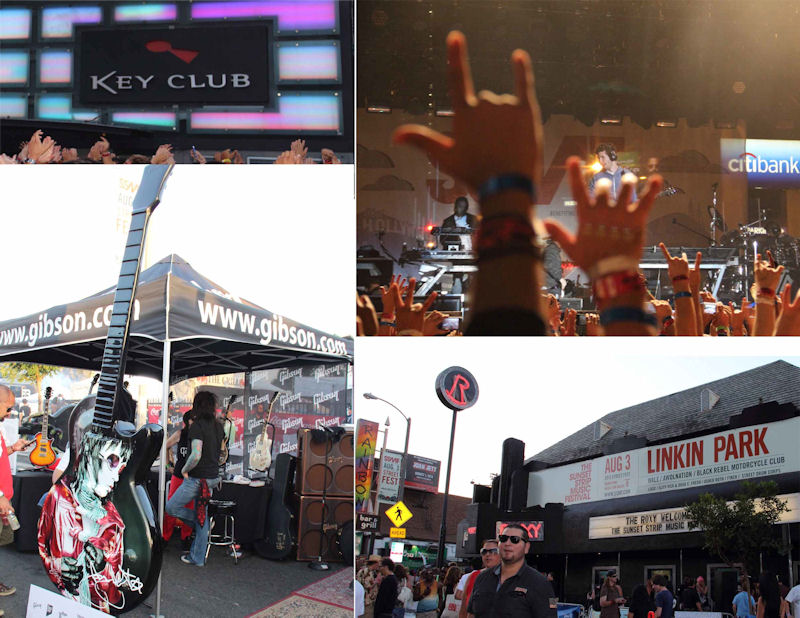 Nederlander Concerts and Sunset Strip Music Festival (SSMF) organizers announced today the 2014 line-up scheduled for Saturday, September 20th and Sunday, September 21st on the famed Sunset Strip in West Hollywood, CA. Legendary alternative rock band Jane's Addiction has been named the 2014 SSMF honoree kicking off the two-day music festival on Friday, September 19th.
Jane's Addiction will be honored with the "Elmer Valentine Award," which celebrates the music and icons that have made an impact on the legacy of The Strip. Since launching their career with their first live performance at The Roxy in 1985, Jane's Addiction has continued to influence the sound and artistic spirit of rock and roll on The Sunset Strip and beyond. This year the group is celebrating the 25th anniversary of their ground-breaking album "Nothing's Shocking."
This marks the seventh installment of the award ceremony, where Lou Adler, Mario Maglieri and Elmer Valentine, founders of cornerstone Sunset Strip venues Whisky A Go-Go, The Roxy and Rainbow Bar & Grill were first honored in 2008. Jane's Addiction joins a distinguished list of former honorees, including Ozzy Osbourne (2009) who received the first "Elmer Valentine Award," which was thusly named after the passing of original honoree, Valentine. Slash (2010), Mötley Crüe (2011), The Doors (2012) and Joan Jett (2013).   The invitation only honoree event will be hosted at the House of Blues Sunset Strip on Friday, September 19.
"It all started for me back when my big brother used to tell me about The Strip, and about the amazing scene where artists like Janis Joplin and Jim Morrison blew people's minds by pioneering a new sound and influencing culture in a more exciting way than ever before.  Complete with massive crowds from all over the world streaming through the streets and flocking to The Strip just trying to be part of it all," said Perry Farrell, Jane's Addiction frontman. "So when it came time for Jane's to record our first album we told Warner Brothers that before we could even release a studio record we had to make a live record on The Strip, and we even recorded it at The Roxy, because we knew that it had to embody that inspiration that came from the heart of that scene. We are very proud to come from this heritage and are truly honored by the Valentine Award."
Following the Friday induction ceremony, Jane's Addiction will headline the first day of SSMF on Saturday, September 20 and play Nothing's Shocking in its entirety. The day will be packed full of performances by Failure, Cold War Kids, ††† (Crosses), Minus the Bear, Kaiser Chiefs, The Birds of Satan, Nightmare and the Cat, Beware of Darkness and Say Say.
 
Popular Australian electronic music duo Empire of The Sun will headline day two of the festival on Sunday, September 21, bringing their spectacular lightning visuals and sound. Mayer Hawthorne, Iration, Big Data, Tove Lo, Big Freedia, We Came as Romans, Nostalghia and Fenech-Soler, plus more to be announced will round out Sunday's festival.
Tickets for the 2014 SSMF street festival are on sale now via the official ticketing provider, Eventbrite, at https://SSMF2014.eventbrite.com. Ticket options include: Single Day General Admission for $75 or a 2-Day festival pass for $125.