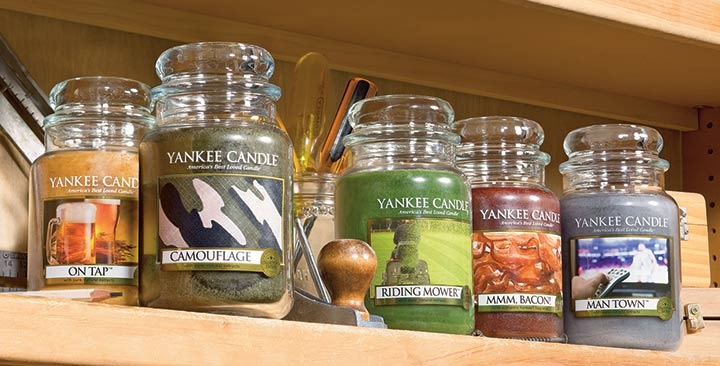 The Yankee Candle Company launched two new fragrances and the return of three favorites in its popular limited edition Man Candles collection. Just in time for Father's Day, Camouflage and On Tap™ join last year's introduction MMM, Bacon!™ and original Man Candles Man Town™ and Riding Mower™.
The Man Candles collection, which was an instant hit when it first debuted, was created uniquely for men to enjoy in their "man town," wherever that may be in the house. These limited edition fragrances are available now at Yankee Candle's over 500 retail stores, at www.yankeecandle.com and select specialty retailers and gift shops. Yankee Candle is launching a series of social media contests offering consumers the chance to win samples of the Man Candles III collection!
LIMITED EDITION MAN CANDLES – Cool, crisp fragrances bring a refreshing feel to any man cave.
Price: $17.99 MSRP – $27.99 MSRP ($27.99 MSRP – Large Jar Candle; $17.99 MSRP – Footed Tumbler Candle)
On Tap™ – The cool, golden aroma of a freshly poured draft beer. NEW!
Camouflage – A natural, woodsy blend of fresh air, golden leaves and oak tree bark. NEW!
Man Town™ – Escape to the man cave with this masculine blend of spices, woods and musk.
MMM, Bacon!™ – The undeniably mouth-watering aroma of sizzling hickory smoked bacon.
Riding Mower™ – Hot sun. Cool breeze. And the intensely summery scent of freshly cut grass.
Visit www.yankeecandle.com