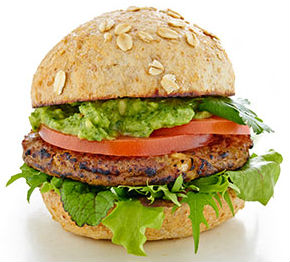 As summer festivals kick into gear, MorningStar Farms is stopping at local celebrations across the country to show how easy it is to create flavorful meatless meal options perfect for any occasion. From San Francisco to New York City, the MorningStar Farms "Good Food for Good Times" tour will give festival goers a chance to taste the brand's new offerings, including the Roasted Garlic and Quinoa Burger, as well as other favorites like the Spicy Black Bean Burger and Buffalo Chik Patties. Those who try these tasty samples will be surprised how simple it is to make good choices with more than 30 meatless food products and 600 recipes MorningStar Farms has to offer.
Given the success of last year's "Feel Good Grilling" tour, we aimed to expand this year's summer tour by providing a more robust array of creative dishes people can prepare using MorningStar Farms food," said Andrew Loucks, President of Kellogg Frozen Foods. "We're traveling across America on the 'Good Food for Good Times' tour to show consumers how our tasty vegetarian cuisine is the perfect base to create any meal."
To inspire the summertime meatless dishes, prominent local chefs from Food Network's "Chopped" and "Next Food Network Star" will demonstrate their fresh creations that feature MorningStar Farms products at select tour stops in Chicago and Philadelphia. The chefs will chat with festival goers, give cooking demonstrations and offer free samples of their dishes at these festivals:
Gold Coast Art Fair, Chicago, June 21: CEO and Executive Chef Judson Todd Allen, Healthy Infused Cuisine , LLC

Wawa Welcome America, Philadelphia, July 4: Chef Rich Landau, Vedge Restaurant
"I love to experiment with an array of ingredients and foods to find new and interesting ways to present them," said Judson Todd Allen. "In partnership with MorningStar Farms, I am able to incorporate many new, flavorful meatless food options that inspire people to get creative in the kitchen whether they are a chef or not."
The tour began Saturday, May 24th at the Boulder Creek Festival in Boulder, Colo. It next will spice up the Gold Coast Art Fair in Chicago June 21-22. Every stop will feature a host of new MorningStar Farms product samples and a chance to win coupons by playing games with our MorningStar Farms brand ambassadors.
To check out the full list of festival stops, recipes and to find out innovative ways you can diversify your meals with MorningStar Farms meatless meal options this summer, visit www.facebook.com/morningstarfarms or follow the tour on Twitter @MorningStrFarms #MorningStarFarms.