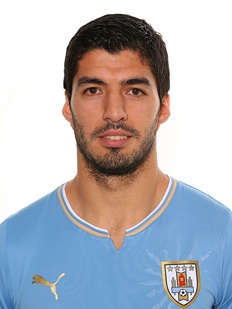 Luis Suarez has been banned for nine international matches, and four months of all competition, after biting Giorgio Chiellini in Uruguay's June 24th World Cup match against Italy.
Suarez, who also plays for Liverpool, appeared to drive his teeth into Chiellini but wasn't penalized on the play. He has been caught of the same wrongdoing on two separate occasions.
"Such behavior cannot be tolerated on any football pitch and in particular not at a FIFA World Cup, when the eyes of millions of people are on the stars on the field," Claudio Sulser, the chairman of the FIFA Disciplinary Committee, said.
The discipline comes with Uruguay advancing to the World Cup round of 16. Suarez, who is annually atop the English Premier League in goal scoring, is recognized as one of the world's best players. The suspension severely limits Uruguay's chances of winning their next match.
Liverpool chief executive officer Ian Ayre said in a statement: "Liverpool Football Club will wait until we have seen and had time to review the FIFA Disciplinary Committee report before making any further comment."
Suarez consistently dabbles in controversy, perhaps this is the proper wake-up call to maintain a plentiful career.