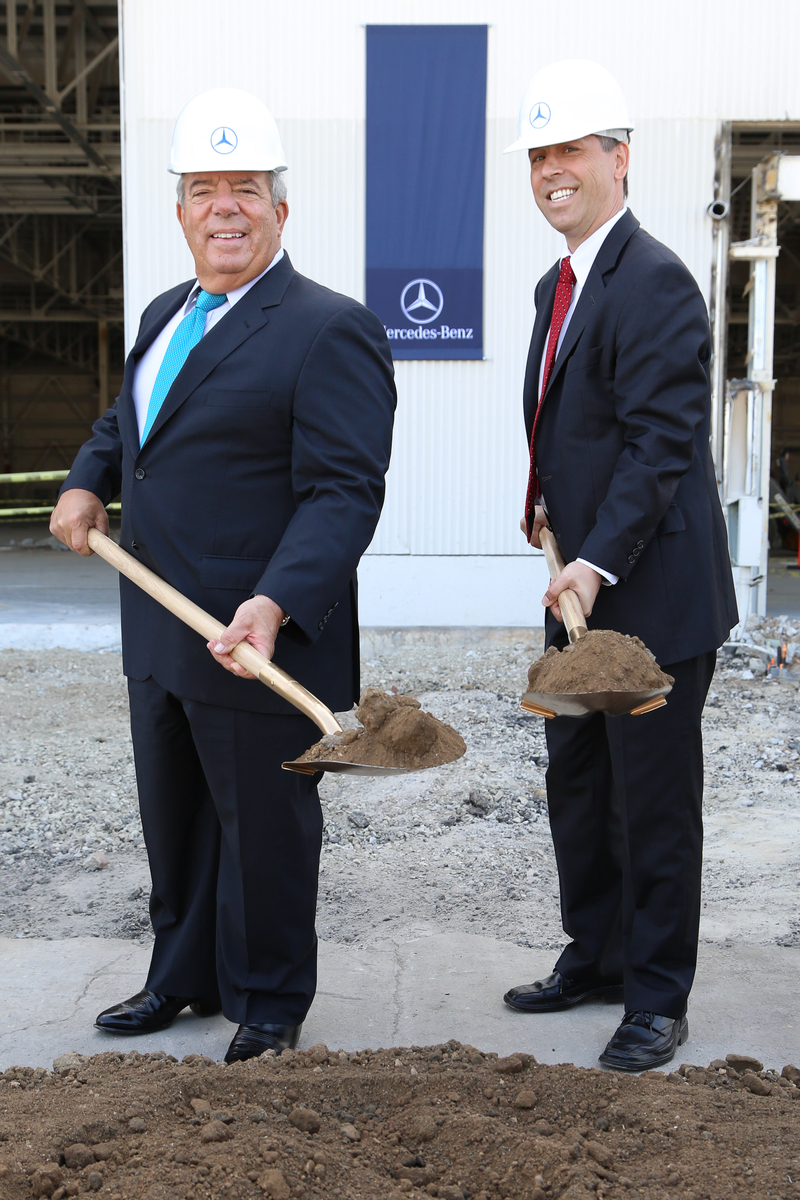 Photo: Bob Foster Mayor of Long Beach & Dietmar Exler VP Sales MBSUA

Mercedes-Benz USA officially marked the commencement of construction on a new West Coast regional facility in Long Beach, California. The new location serves as the future home of MBUSA's Vehicle Preparation Center, Western Region and Learning & Performance Offices, which are all currently located in Southern California.
The new facility will consist of two buildings, totaling 1,091,754 sq. ft. on a 52.2 acre lot. The historic location opened in 1941 as home to the Douglas Aircraft Company and later served as the Boeing 717 aircraft manufacturing facility until closing in 2006. Located across the street from the Long Beach Airport in a mixed-use development known as Pacific Pointe at Douglas Park, the facility is expected to be ready to begin business operations in the first quarter of 2015.
"Southern California is the car culture capital of the world and it remains one of the largest markets for the Mercedes-Benz brand. Hollywood, great weather, a passion for the automobile and continued growth of the luxury market have all contributed to this singular position," said Dietmar Exler, vice president of sales for MBUSA. "Thirty years ago Mercedes-Benz planted roots in Southern California and expanding sales volume necessitates that we have the most efficient and effective structure to support our dealers in providing a world-class customer experience."
"I am thrilled Mercedes-Benz selected Long Beach as its new West Coast home," said Bob Foster, Mayor of Long Beach. "This is an iconic brand moving into an iconic building with a plan to re-imagine the former 717 site into a state-of-the-art facility that will activate this property for many years to come."
The new facility will include the following business operations:
VEHICLE PREPARATION CENTER – The Vehicle Preparation Center is responsible for ensuring Mercedes-Benz vehicles are ready to deliver once they arrive in the United States. Distribution tasks include receiving vehicles from vessels, inventory management for the U.S. market, port of entry services, shipping and wholesaling of vehicles. Quality tasks include vehicle inspection and factory quality checks. MBUSA operates three Vehicle Preparation Centers located in Baltimore, MD, Brunswick, GA and Carson, CA.
WESTERN REGION OFFICE – The MBUSA Western Region supports 82 dealerships with sales and fixed operations across 12 states including Alaska, Arizona, California, Hawaii, Idaho, Montana, Nevada, New Mexico, Oregon, Washington, Texas and Utah. MBUSA has three other regional offices in the U.S.: Parsippany, NJ, Rosemont, IL and Jacksonville, FL.
LEARNING & PERFORMANCE CENTER – The Learning & Performance Center provides training to dealership and MBUSA employees. MBUSA Learning & Performance conducts instructor-led training, eLearning, virtual classrooms, peer-to-peer training, and mobile learning to ensure that customer-facing personnel have the information and ability to deliver to the highest professional service. MBUSA operates Learning & Performance Centers in Houston, TX, Itasca, IL, Jacksonville, FL and Montvale, NJ.