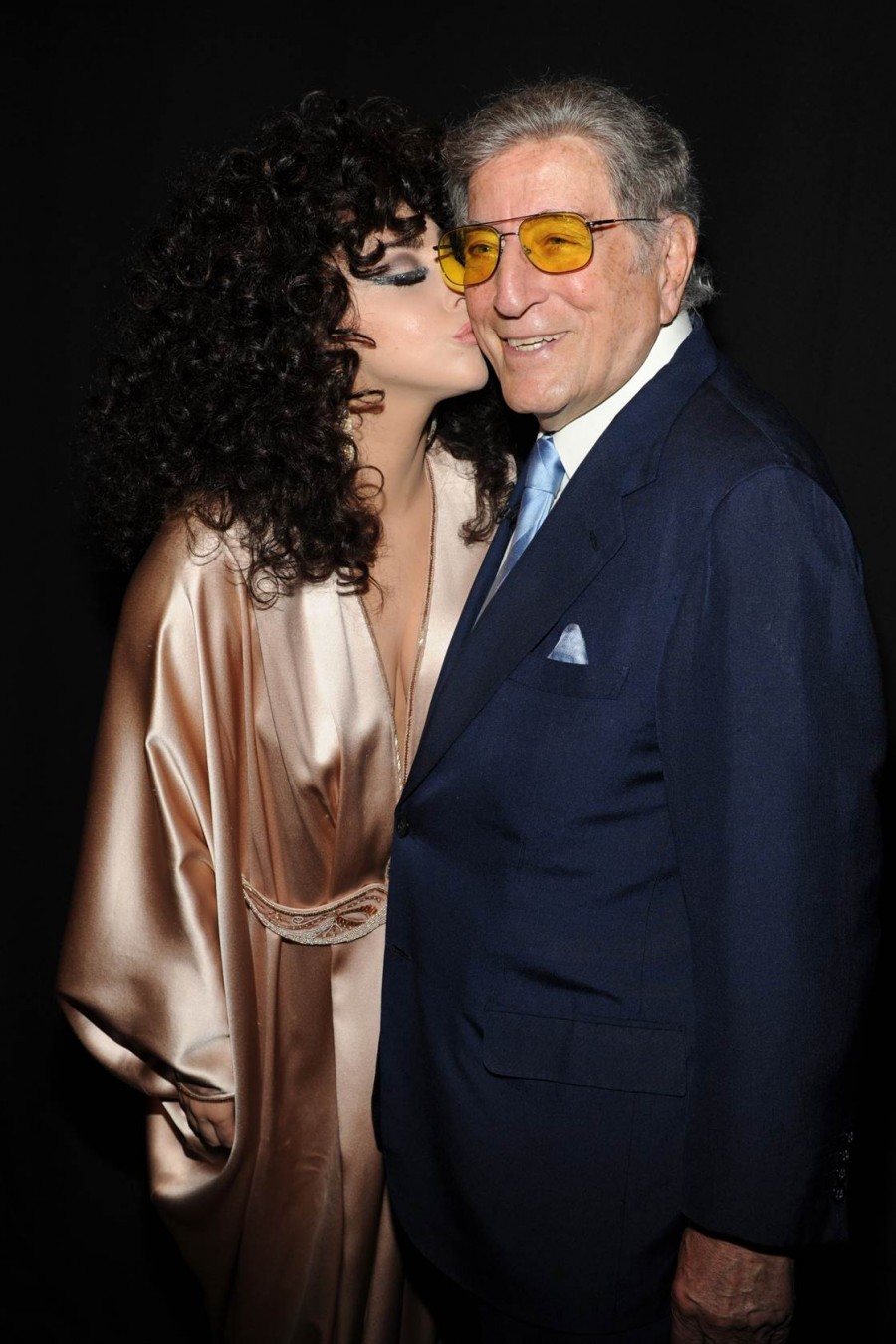 Tony Bennett and Lady Gaga thrilled over 700 NYC high school students at Frank Sinatra School of the Arts on the last day of school by making a surprise appearance on site today. Frank Sinatra School of the Arts (FSSA) was founded by Bennett in his hometown of Astoria, Queens and he usually attends graduation but this year due to his tour schedule he is unable to join. Instead, he decided to do something special for the last day of classes, so he asked his good friend Lady Gaga to join him for a master class in the school's Tony Bennett Concert Hall.
Moderated by NBC's Lester Holt, Gaga and Bennett conversed on stage about a variety of subjects including jazz music, The Great American Songbook, creativity and also fielded questions from the students. Then Tony Bennett performed the classic "The Very Thought of You" followed by Lady Gaga's wonderful version of "Every Time We Say Goodbye." In a spontaneous and playful moment, the two began to serenade each other with the standard "I Can't Give You Anything But Love." Gaga then added in a cheek to cheek slow dance. Several musicians have done master classes at FSSA including Billy Joel and Paul McCartney.
 
"When I first heard Gaga sing my reaction was that she is going to be bigger than Elvis. She is so bright and intelligent and she has it. In jazz you either got it, the syncopation, the rhythm or you don't, and when I heard Gaga I said she's got it!"
 
Gaga talked about the wonderful experience she always has when she sings with Tony, saying "When I am with Tony I feel like I am 15 years old at home listening to Ella and Coltrane records. The way he sings is effortless and so prolific. It's so liberating to be able to sing jazz, especially at this point in my career!"
 
In response to Tony's comment "these songs are so timeless," Gaga joked: "Like a good black dress, they never go out of style."
Frank Sinatra School of the Arts (FSSA) was founded by Tony Bennett, in association with the NYC Department of Education in 2001 as part of the singer's efforts to support arts education in public schools.  With his wife, Susan Benedetto, they founded Exploring the Arts, which currently supports a total of 17 public high schools in NYC and Los Angeles. Tony Bennett is a 17-time Grammy Winner, a Kennedy Center Honoree and NEA Jazz Master. FSSA is located in Astoria, Queens at Kaufman Astoria Studios, current home to Orange is the New Black, Nurse Jackie, Sesame Street, Alpha House and others.