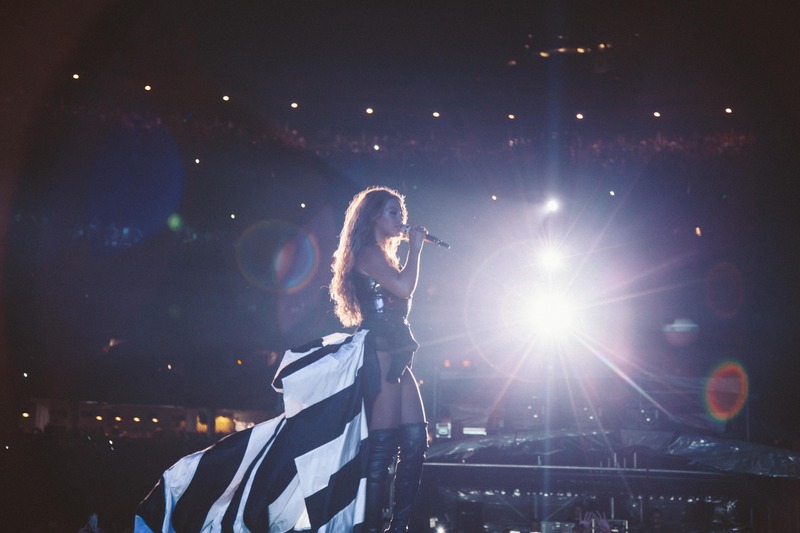 The House of Givenchy announced that Beyoncé wears Givenchy Haute Couture by Riccardo Tisci custom made outfits for ON THE RUN TOUR : BEYONCE AND JAY Z.
Throughout the show, Beyoncé wears three costumes designed especially for her by Riccardo Tisci.
To open the show performing their first joint song ever ('03 Bonnie & Clyde'), JAY Z wears a custom made tuxedo in black grain-de-poudre with a black and white American Flag print t-shirt from the upcoming Givenchy by Riccardo Tisci Spring-Summer 2015 Menswear collection.
Singing some of her greatest hits, Beyoncé reveals her first Givenchy Haute Couture by Riccardo Tisci outfit : a masculine black leather short jumpsuit with chunky zipper details with hand embroidered bra and panties. The jumpsuit reads the inscription 'BBB 17', in a white and red embroidery designed in the back.
The second costume ('Single Ladies') is Riccardo Tisci's newest take on Beyoncé's signature leotard, here in black stretch tulle all over embroidered with paillettes, 3D stones and crystals, and a fishnet on skin tulle center part.
In the show's big finale, where Beyoncé and JAYZ appear for the last time, the singer wears a black vinyle and velvet bodysuit with a fishnet catsuit worn underneath and a dramatic American Flag 5 meters long shirt-skirt in black and white taffetas with stars embroidery designs.
All Beyoncé looks are worn with seamless custom made nappa and patent leather thigh high boots.
Showcasing Givenchy by Riccardo Tisci's strongest codes, Beyoncé & JAY Z's costumes made their debut at the ON THE RUN TOUR opening in Miami on June 25th, 2014. The show will keep travelling through America until it comes to Europe mid-september (Paris, Stade de France, September 12th & 13th)