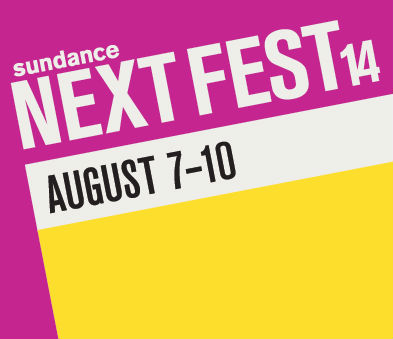 Sundance Institute will present the Sundance NEXT FEST summer festival August 7-10 in Los Angeles, headquartered at the Theatre at the Ace Hotel and offering feature and short film screenings, some paired with live music performances and all celebrating the renegade spirit of independent artists. The event is an extension of the popular NEXT <=> section at the Sundance Film Festival in Park City, Utah, which showcases stylistically adventurous and bold films, and builds on the Institute's NEXT WEEKEND event, hosted in 2013. The Sundance Film Festival programming staff will select films and music acts for NEXT FEST. The festival is supported by Principal sponsors Acura and YouTube.
For the festival's kickoff event on August 7, a cult classic film supported by Sundance Institute will screen at Cinespia at the Hollywood Forever Cemetery. A similar event for last year's NEXT WEEKEND featured a double-bill screening of Chris Smith's iconic documentary American Movie and the horror film it chronicled the making of, Mark Borchardt's Coven.
Films that have premiered in the NEXT <=> section at the Sundance Film Festival, launched in 2010, include Bellflower (Director and screenwriter: Evan Glodell), Blue Caprice (Director: Alexandre Moors, Screenwriters: R. F. I. Porto, Alexandre Moors), Compliance (Director and screenwriter: Craig Zobel), Sleepwalk With Me (Director: Mike Birbiglia, Screenwriters: Mike Birbiglia, Ira Glass, Joe Birbiglia, Seth Barrish) and sound of my voice (Director: Zal Batmanglij; Screenwriters: Zal Batmanglij and Brit Marling).
Robert Redford, President & Founder of Sundance Institute, said, "Independent artists working in film and music have a profound impact on our culture, but there are few opportunities to enjoy them side by side. NEXT FEST will break down those barriers and explore what these artists and audiences have in common – an appreciation for exceptional creative vision."
The Theatre at Ace Hotel is a delicate restoration of the 1,600-seat United Artists Theater, built in the 1920s for the Maverick Film Studio founded by Mary Pickford, Douglas Fairbanks, D.W Griffith and Charles Chaplin. Designed by C. Howard Crane, the Theatre is a shrine to the arts, with a three-story, 2,300-square-foot grand lobby, an ornate open balcony and mezzanine, vaulted ceiling and richly colored murals depicting the legends of film's Golden Age, immortalized in mythic attire.
Keri Putnam, Executive Director of Sundance Institute, said, "The Theatre at Ace Hotel in the former home of the Historic United Artists Theatre will be a fitting home for our NEXT FEST. This beautiful Los Angeles gem was built as a maverick film studio and stands as a monument to independent artists who forged their own path. A similar spirit will be visible in the films and music acts at NEXT FEST."
John Cooper, Director of the Sundance Film Festival, said, "At its core, NEXT FEST is about celebrating artists who push creative boundaries. This unique program presents an opportunity for audiences in Los Angeles to explore the outer edges and intersections of film and music."
For more information about NEXT FEST visit sundance.org/next. Programming announcements will be made this summer, and tickets will go on sale at that time. Sundance Institute members will enjoy access to pre-sale tickets, a members party and a chance to win a NEXT FEST prize package including a three-night stay at the Ace Hotel plus airfare. To join, visit sundance.org/membership.
Sundance NEXT FEST is supported by Principal Sponsors Acura and YouTube, which are both long-time sponsors of the Sundance Film Festival in Park City, Utah. Additional NEXT FEST sponsors include: Major – Kickstarter; Media – KCRW 89.9 and Supporting – Beachside Films, FilmL.A., Inc., Southwest Airlines and Stella Artois.