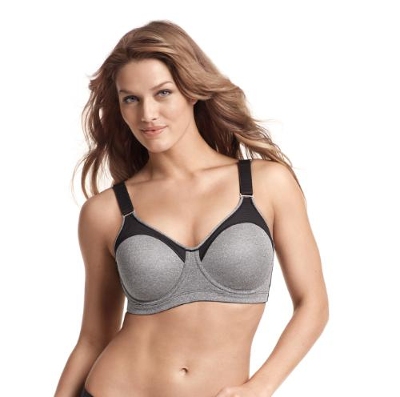 Playtex has introduced its new Playtex Play collection featuring five bra styles with innovative comfort flex fit technology and alpha sizing to meet the fit and support needs of daily activities like walking the dog, running errands and working.
Playtex Play bras utilize patented shape-to-fit technology, targeted support zones and a unique simple sizing system ranging from small to 2XL. The flexibility and custom shaping of the bras allow the five easy-to-fit alpha sizes to replace 19 traditional cup-and-band bra sizes ranging from 36B to 44D. Women can feel confident as they move through their day because each bra is made with an All Day Dry™ fabric design and the Playtex TruSupport® system.
"Women trust Playtex bras for stylish support, and this new collection provides active women a non-sports bra solution that meets their daily needs for a comfortably fitting bra," said Vicki Seawright, Playtex vice president and general manager. "The five Playtex Play bra styles are designed to move with her, providing the coverage, shaping and support she needs to conquer her day. Women also love the comfort and fit that simple alpha-sized bras provide."
Alpha-sized bras are one of the fastest growing segments in the bra market. The innovative small-through-2XL simple sizing system for Playtex Play bras provides all-day comfort with superior flexibility, freedom of movement and maximum support for women with fit-specific needs.
Each of the five Playtex Play styles features the TruSupport system which gives her the ultimate level of support and coverage while helping to reduce bounce. The collection also features All Day Dry fabric which wicks away moisture to help keep her cool and comfortable all day long.
The new Playtex Play collection includes the following styles:
Funwinder™: Patented seamless-knit wirefree bra features lightly padded cups that provide modesty, support and shaping and cushioned adjustable, convertible straps for comfort and versatility.

OutBounder™: Wirefree bra provides extra coverage for control and support, cushioned adjustable, convertible straps for comfort and versatility.

OutGoer™:Underwire bra with lightly padded cups provides modesty, support and shaping and features wide front-adjustable straps with limited stretch for extra support.

Ultitasker™:Wirefree bra provides extra stability and shaping with extra side support and cushioned adjustable, convertible straps for comfort and versatility.

Zip Zip Hurray™: Wirefree bra features a front-zip design that locks in place for easy on/off security and a strappy back design that smoothes the back for a stylish look.
"Play marks the next chapter in the Playtex brand's evolution," says Seawright. "We know women want a stylish bra that addresses her unique needs. The addition of this collection provides the opportunity to reach women who never considered the Playtex brand before while reinforcing to current wearers our dedication to providing innovative styles that celebrate her individuality."
Playtex Play bras have a manufacturer's suggested retail price of $39 and are widely available at Kohl's, Macy's, JCPenney and other national retailers.
 For more information, visit www.Playtexfits.com.