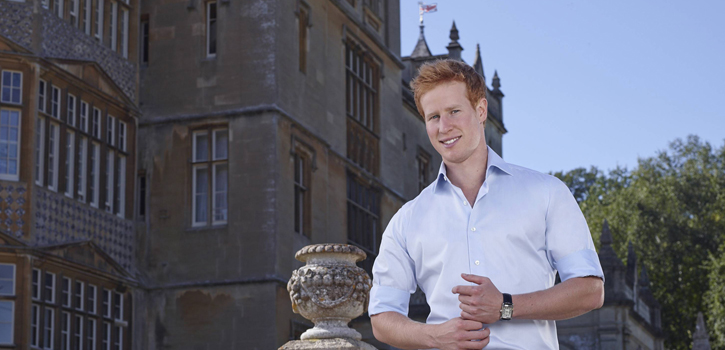 Photo Credit: FOX
From the network that brought you "Joe Millionaire" comes the royally wicked dating experiment tonight…  I WANNA MARRY "HARRY," premiering Tuesday, May 27th (8:00-9:00 PM ET/PT), on FOX. Reality meets romance, with a little twist, as an average English "bloke," Matthew Hicks – who looks remarkably like His Royal Highness Prince Henry of Wales, also known as Prince Harry – is given an upper-crust makeover before meeting 12 American women searching for Prince Charming.
Summer love is in the air as 12 American women travel to England for a chance of a lifetime with a man whom they think is Britain's most eligible bachelor. Join this diverse group of ladies, from a preschool teacher to a pre-med student, in their journey across the pond, to meet their "royal" Mister Right. On their first night at the enchanting estate, Matthew (or "Sir," as the ladies call him) throws a lavish masquerade ball where he reveals himself to the ladies for the first time. When the masks come off, will sparks fly or will the spell be broken? Find out which potential "princess" steals his heart from the start and who is asked to leave the estate before the clock strikes midnight.
Each week Matthew handpicks one lucky gal to take on an extravagant adventure, while another's dream of "happily ever after" is dashed, when she is asked to leave the estate. As Matthew narrows down his choice to one woman, he will finally have to admit the truth about his royal masquerade. What will happen when Matt admits to the deception? Crown or no crown, Matt plans to see which girls are in it for real and which are only in it for riches.
I WANNA MARRY "HARRY" is from Zig Zag Productions and Ryan Seacrest Productions. The series was created by Danny Fenton and executive-produced by Danny Fenton, Kevin Utton and Matt Gould for Zig Zag Productions; Ryan Seacrest, Adam Sher and Heather Schuster for RSP; and David Tibballs and Rebecca Eisen. "Like" I WANNA MARRY "HARRY" on Facebook at www.facebook.com/MarryHarryFOX. Follow the series on Twitter @MarryHarryFOX and join the discussion at #marryharry.