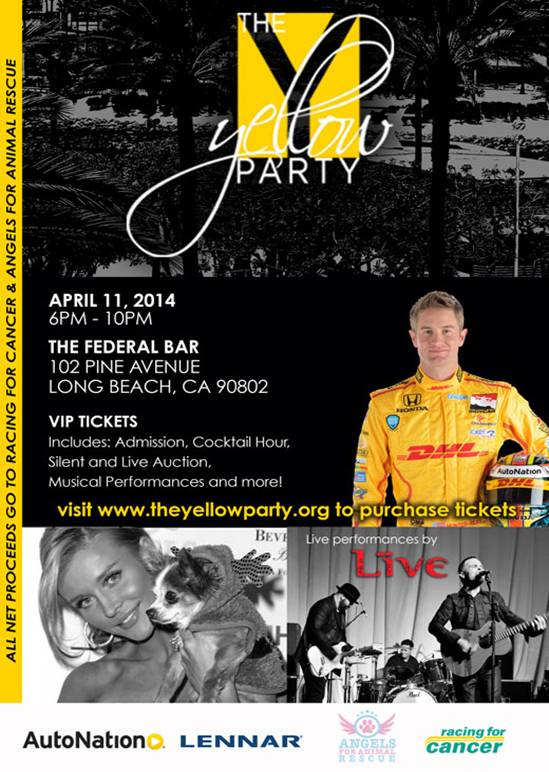 AutoNation presents The Yellow Party, whichwill kick off the 2014 Toyota Grand Prix of Long Beach on Friday, April 11th. All net proceeds will go to the Angels for Animal Rescue and Racing for Cancer, the non-profit organization founded by IndyCar Champion Ryan Hunter-Reay following his mother's passing from cancer. Racing for Cancer focuses on helping the cancer community and raising awareness of the importance of early detection in saving lives.
 
Angels for Animal Rescue is a 501c3 non-profit and we believe in the rescuing of any and all shelter animals and finding them the perfect forever home. We also try to aid those who can no longer care for their pets by taking them in.
 
Pet therapy has been gaining popularity in the last several years, especially with children's hospitals and cancer patients. Furry, four-legged friends not only have a positive effect on patients, but they have an ability to lift the spirits of everyone surrounding the patient including family members, nurses and doctors. A visit with a friendly canine can lower stress levels, decrease anxiety and improve the overall mood of a patient.
Angels for Animals Rescue is dedicated to saving the lives of animals who are in need of rescue. Racing For Cancer has teamed up with Angels for Animals Rescue for The Yellow Party Long Beach to help support an organization that could will have a positive impact on so many people who are battling cancer. This event will not only show the importance of rescuing animals and the potential for positively impacting cancer patients, but it will also continue to increase awareness of the common goal we all share of helping to beat cancer!
Give back to the animals and have a good time while doing it! Purchase your tickets at www.theyellowparty.org