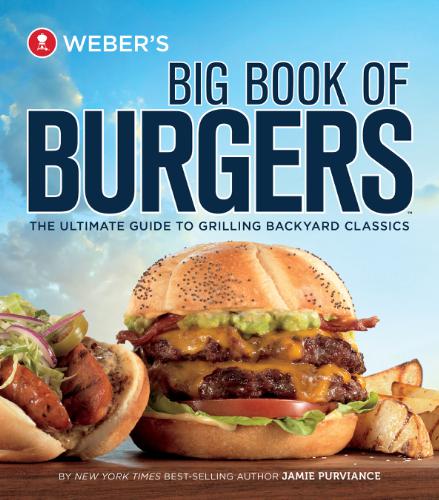 The company that ignited the backyard grilling revolution more than 60 years ago, has announced the release of their first cookbook dedicated to fueling America's passion for the great American burger—Weber's Big Book of Burgers™ (Oxmoor House; April 1, 2014; $21.95; Flexibind—also available as an eBook).
Written by James Beard Award Nominee and New York Times best-selling cookbook author Jamie Purviance, Weber's Big Book of Burgers features 160 recipes covering all the backyard fare people love, including burgers, hot dogs, brats, sausages, sides, and drinks.
"This book pushes burger boundaries," says Purviance, the author of more than a dozen cookbooks for Weber. "After all, a burger is not so much a rigid recipe as it is an idea ready for improvisation. We've loaded readers with fresh, new ideas and created a book that encompasses everything associated with burgers, including fun twists on hot dogs, side dishes, and cocktails. When we say this book is 'BIG,' we mean it covers a huge topic with some surprising approaches."
Highlights include:
Burger recipes range from Bacon and Egg Beef Burgers with Cheddar to upscale Double-Truffled Cheeseburgers with Cornichons. In addition to ground beef, Purviance explores creative takes on burgers using bison, pork, chicken, turkey, lamb, seafood, lentils, quinoa, and many more ingredients that offer grillers the must-have source book for all things burgers.
The book also explores famous regional burger favorites in its America the Burgerful section, including Santa Fe, where the green chili cheeseburger rules, to

Columbia, South Carolina's

own pimento cheeseburger. Throughout history, innovative Americans have experimented with an original and made it their own. 
Fun sidebars—such as In Praise of Ketchup and The Glory of Mustard look into the genesis of two of the burgers best friends. Who knew mustard has medicinal qualities and was used by the Greeks to treat scorpion bites?
Follow on Facebook (www.facebook.com/weberbbq) and Twitter (www.twitter.com/webergrills). Visit www.weber.com for more information.