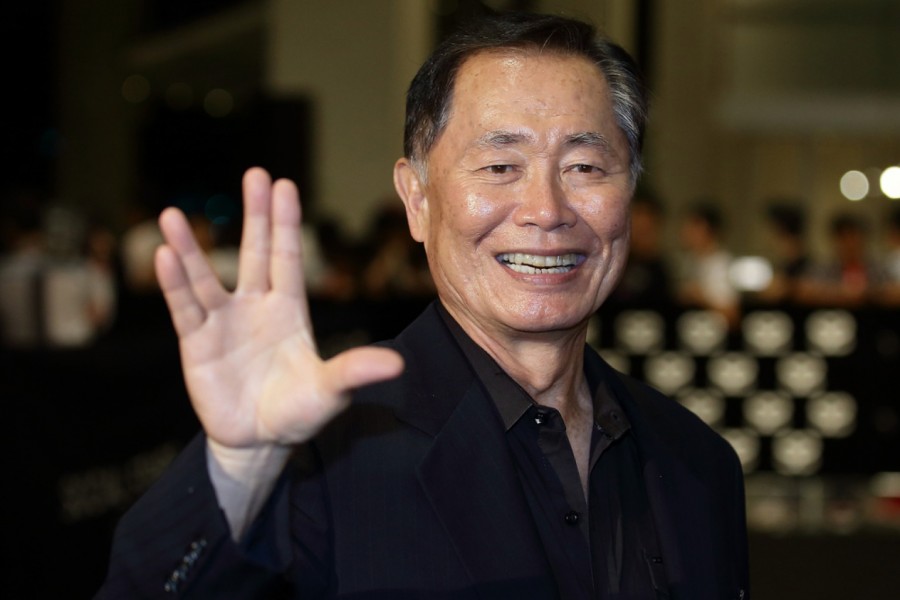 The 30th edition of the Los Angeles Asian Pacific Film Festival blasts off with the Los Angeles premiere of the 2014 Sundance Film Festival hit TO BE TAKEI, directed by Jennifer Kroot, and produced by Gerry Kim and Mayuran Tiruchelvam.
TO BE TAKEI chronicles actor, artist, activist and icon George Takei's life history with wit, grace and whimsy: from his days on the popular television series STAR TREK, to his civil rights and marriage equality advocacy. TO BE TAKEI received its world premiere at the Sundance film festival, where it quickly became an audience favorite.
Visual Communications, the nation's premier Asian Pacific American media arts center, announced its program of outstanding films for the upcoming  festival beginning May 1- 11, 2014 at the Director's Guild of America (DGA), CGV Cinemas located in Koreatown, the Tateuchi Democracy Forum at JANM in Little Tokyo, and the historic Art Theatre of Long Beach.
 
"It is exciting and appropriate for our festival to open with TO BE TAKEI," states Anderson Le, Festival Artistic Director.  "For us, he's been an iconic figure and one of the first Asian American actors to achieve mainstream stardom in Hollywood. George is not only a pioneer, but also he is also one of the most outspoken and media savvy celebrities working today.  The film tells his whole story from his acting to his activism to his amazing personal life, which is now wide open for everyone to see.  He is a living legend and kicking off our celebration of 30 years of Asian American filmmakers and artists with his life story will be historic."
 
The Festival Centerpiece presentation, the road-trip comedy FARAH GOES BANG, directed by Meera Menon follows a woman in her 20s who tries to lose her virginity while on the road campaigning for presidential candidate John Kerry in 2004.  Menon's feature directorial debut, premiered at the Tribeca Film Festival and she was awarded the Nora Ephron Prize for groundbreaking woman filmmaker. FARAH GOES BANG will screen on Sunday, May 4 at the DGA.
This year's competition of Asian Pacific American feature-length films reflects a varied group of compelling storytellers.
The 2014 documentary competition line-up includes:
• 9-MAN by Ursula Liang
• CAMBODIAN SON by Masahiro Sugano
• FRED HO'S LAST YEAR by Steven De Castro
• JEEPNEY by Esy Casey
• LORDVILLE by Rea Tajiri
• THE ROAD TO FAME by Hao Wu
• STORIES FROM TOHOKU by Dianne Fukami and Eli Olson
 
The 2014 narrative competition line-up includes:
• BRAHMIN BULLS by Mahesh Pailoor
• CHU AND BLOSSOM by Charles Chu and Gavin Kelly
• CICADA by Dean Yamada
• FARAH GOES BANG by Meera Menon
• HOW TO FIGHT IN SIX INCH HEELS by Ham Tran
• A LEADING MAN by Steven Kung
• A PICTURE OF YOU by J.P. Chan
 
The 2014 international showcase line-up includes:
• 100 DAYS (Taiwan) by Henry Chan
• CONCRETE CLOUDS (Thailand) by Lee Chatametikool
• FIRESTORM (Hong Kong) by Alan Yuen
• HIDE & SEEK (South Korea) by Huh Jung
• ICE POISON (Taiwan/Myanmar) by Midi Z
• OBJECTS IN MIRROR (Iran) by Narges Abyar
• ONCE UPON A TIME IN VIETNAM (Vietnam) by Dustin Tri Nguyen
• THE PINKIE (Japan) by Lisa Takeba
• SAGARMATHA (Indonesia/India/Nepal) by Emil Heradi
• THUY (South Korea) by Kim Jae-han
• A VENGEFUL HEART (Vietnam) by Victor Vu
 
The 2014 Festival's national spotlight, "The New Face of Philippine Cinema" includes:
• BLUE BUSAMANTE by Miko Livelo
• DEVOTION by Alvin Yapan
• KABISERA by Alfonso "Borgy" Torre III
• REKORDER by Mikhail Red
• SHIFT by Siege Ledesma
 
The 2014 lineup of special presentations includes:
• AMERICAN REVOLUTIONARY: THE EVOLUTION OF GRACE LEE BOGGS by Grace Lee
• AWESOME ASIAN BAD GUYS BY Stephen Dypiangco and Patrick Epino
• THE COTABATO SESSIONS by Joel Quizon
• DELANO MANONGS: FORGOTTEN HEROES OF THE UNITED FARM WORKERS MOVEMENT by Marissa Aroy
• FAMILY INGREDIENTS by Ty Sanga
• HULA: MERRIE MONARCH'S GOLDEN CELEBRATION by Roland Yamamoto
• PLASTIC PARADISE: THE GREAT PACIFIC GARBAGE PATCH by Angela Sun
 
For program information, a complete listing of sponsors and partners, and to purchase tickets, log on to www.vconline.org/festival  or contact Visual Communications at (213) 680-4462 x59.  Tickets go on sale on Friday, April 4, 2014.