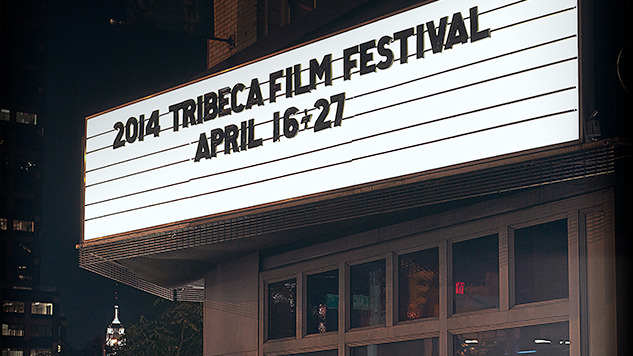 The 2014 Tribeca Film Festival (TFF), presented by AT&T, just announced the addition of two feature films, both music documentaries, to its special screenings program: Alex Gibney's work-in-progress, Untitled James Brown Documentary, and the world premiere of Björk: Biophilia Live. It was also announced that TFF's Opening Night, the world premiere of Time is Illmatic followed by a performance by legendary rapper Nas, will take place at the iconic Beacon Theatre with tickets for sale to the public. Opening Night is co-sponsored by Hennessy V.S. The 2014 Festival will take place from April 16 – 27 in New York City.
 
Tickets to Opening Night on April 16th will be available at tribecafilm.com/openingnight beginning on March 27th at 11:00 a.m. for American Express Card Members and on April 1st at 11:00 a.m. for the general public. Director One9's documentary, Time is Illmatic, follows the trajectory of Nas' 1994 landmark debut album, "Illmatic"—widely considered to be one of the most important and revolutionary albums in hip hop.
"Music is a prominent thread throughout the Festival this year, and the Untitled James Brown Documentary and Björk: Biophilia Live are great complements to our already exciting slate," said Genna Terranova, Director of Programming. "Nas and his work have been beloved by New Yorkers for years and we are thrilled to be celebrating his music with everyone on opening night."
Untitled James Brown Documentary, directed and written by Alex Gibney. (USA) – Work In Progress, Documentary. James Brown changed the face of American music. Soul Brother Number One, as he was known, pioneered the journey from rhythm and blues to funk.  More than that, this American legend—who willed himself to life after he was stillborn—was a classic embodiment of the American dream.  The son of a "turpentine man" from rural South Carolina, Brown became one the greatest live performers ever known, the "hardest working man in show business," and a self-made millionaire.  As he often said, it was "show AND business."  Once successful, one of his first orders of business was to launch the soundtrack for a new civil rights movement: "Say It Loud: I'm Black and I'm Proud."  With unique cooperation of the Brown estate, this is a definitive documentary biography of the James Brown story and legend, 1933–1974. The screening will be followed by a special conversation with Director Alex Gibney on April 27th.
 
Björk: Biophilia Live, directed by Nick Fenton & Peter Strickland. (UK) – World Premiere, Documentary. From a mind unlike any other, Biophilia Live chronicles the multidimensional concert centered on the eighth studio album of avant-garde Icelandic artist, Björk. Directors Nick Fenton and Peter Strickland, unique voices in their own right, film Björk live in performance, and punctuate her music with evocative animation from apps created by the world's top 10 designers combined with science and nature archive and found footage. This is inspired by the themes of the album which explore the relationships between musical structures and natural phenomena—atomic, cellular and cosmic.  The infinitely creative journey presents a culmination of work that represents one of the most original musical endeavors of a generation. The film will screen at TFF on April 26th. 
For more info: www.tribecafilm.com/openingnight