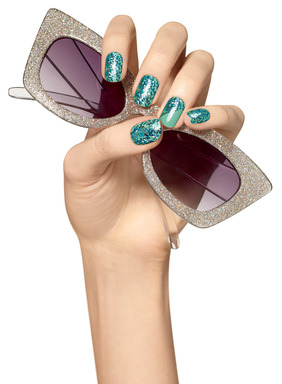 New from Sally Hansen… a line of exciting Big Top Coats. From the glittery to the cracked, these unexpected new finishes take your manicure to the next level with creative, endless possibilities and are an easy, one step alternative to nail art. Check out…
Big Glitter Top Coat™: Craving more sparkle and shine? These multi-dimensional top coats add a big, bold glitter effect and show-stopping shine to any of your favorite Sally Hansen nail colors. Brush it over a solid color for a healthy dose of glitter, or take even shimmery colors to the next level of shine. Available in Blue Moonlight, Meteorlight and Goldi-Flecks
Big Smoky Top Coat™: This unique top coat glides on a semi-transparent black and instantly deepens and richens your existing nail polish. The glossy formula can be layered over solids or glitter to create depth to your polish. Layering the top coat over shimmer will create an unexpected, sophisticated look.
Big Shimmer Top Coat™: This shimmer top coat is perfect for adding extra dimension and allure to your color. This top coat features delicate, shimmering sparkle fragments and adds attention-grabbing shine to any nail polish.
Big Crackle Top Coat™: Get a custom crackle design with this black top coat that creates a "cracked" pattern when applied over dried nail lacquer. The edgy finish shows off your base color through the cracks while making your manicure instantly intricate.
Price: $5.99 each
Sally Hansen products are available at chain drug stores, food stores and mass merchandisers nationwide.
For more info visit: www.sallyhansen.com