The American and Russian men's hockey teams will renew their long standing rivalry Saturday, Feb. 15 under the bright lights of the Olympic stage and in front of the eyes of the world. Both squads picked up victories Wednesday over their first opponents. Team USA beat Slovakia 7-1 while the Russians defeated Slovania 5-2 in the first game of men's group A competition. It is really no surprise to see these two teams grouped together in the first round. After all, the rivalry goes back more than 30-years.
For those who don't know, it was during the 1980 Winter Olympics in Lake Placid, New York, that team USA defeated the Russian squad in what would become known as the "Miracle On Ice" game. At the time, the Soviet team was an international hockey juggernaut and they had dominated world competition for nearly 20-years. The victory for Team USA did not secure a gold medal, but they would go on to win gold against Finland while Russia settled for silver. The Soviet team won two more Olympic gold medals in '84 and '88, but has not finished better than silver since the Soviet Union was dissolved. Things have changed on the international hockey stage and much of that started with that American victory over 30-years ago. Russian players have been steady imports to National Hockey League teams for decades, but hockey in North America has grown significantly as well. The Canadian team won gold medals in 2002 and most recently in 2010, while the American team has not managed to win another gold medal since 1980, but took silver in two of the last three Winter Olympics.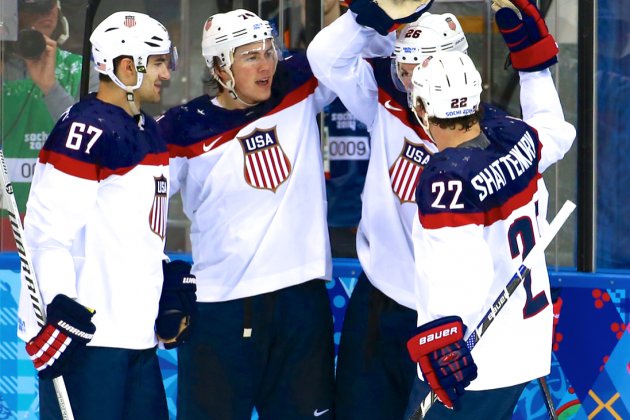 Team USA has a virtual fantasy team. They return 13 players from their silver medal run in 2010, adding a tremendous amount of experience they were missing four-years ago. Captain Zach Parise said in an interview, "There's no shortage of leadership. There's plenty of guys who are leaders, we're not lacking in that area. With those type of guys leading the way and with players like Patrick [Kane] with their skill, we're going to be a hard team to play against." Team chemistry was a key issue when drafting the U.S. team. Head Coach Dan Bylsma said, "This is a unique tournament and it creates a unique challenge, the team that comes together and figures that out the fastest will be the one that is most victorious."
With much of the pre-Olympics focus on the ongoing rivalry between America and Canada, it's a blessing in disguise for Russia. The Canadians beat the U.S. in the gold medal game four years ago on their home ice in Vancouver and the teams are favored to be on that stage again in Sochi. Russia is not the kind of team you want to overlook, especially while playing on their home ice. The roster is talented and deep, including a total of 16 NHL players. They boast NHL superstar talent like Alexander Ovechkin (Washington Capitals) along with Stanley Cup winners Pavel Datsyuk (possibly the best two-way player in the world) and Yevgeni Malkin who was a huge part of the Pittsburgh Penguins' recent success.
Russia doesn't have the luxury of playing without pressure. Their history of elite international hockey is unquestioned, but their place on the modern world stage remains to be seen. The advantage of a lively Russian home-crowd is inspiring, but the hopes of the host nation are riding on the team's performance (especially with Russian figure skating legend Yevgeny Plushenko withdrawing from the men's competition due to injury while warming up for his run at gold). When asked what a gold medal would mean in a recent interview, Ovechkin responded, "Mean gold only cost $50-billion." It is going to be an exciting ride for the teams and their fans as the opening round unfolds. 
By N.B.