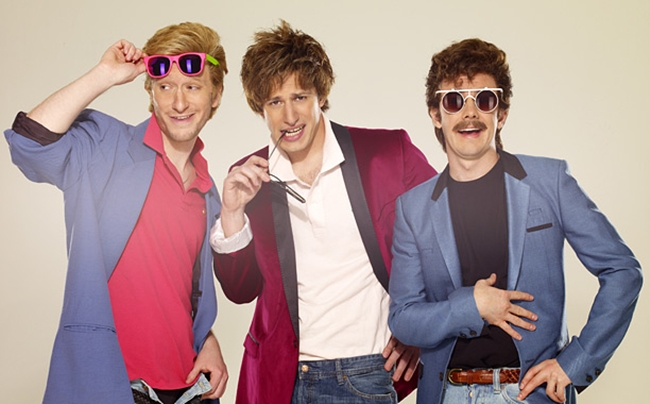 As announced at the Television Critics Association, FOX has entered into a strategic pact with multi-hyphenate comedy trio and Grammy Award-nominated performers The Lonely Island. Through the new company, The Lonely Island will oversee the development of comedy projects that will be incubated through digital platforms, such as Hulu and Roku, with the ultimate goal of becoming full series on FOX, FX, FXX or other networks.
FOX also announced that with National Geographic Channel they will launch the global series premiere of COSMOS: A SPACETIME ODYSSEY, the thrilling new 13-part series from executive producer/writer Ann Druyan and executive producer Seth MacFarlane (FAMILY GUY, "Ted"). The highly anticipated series will premiere in the U.S. on Sunday, March 9 (9:00-10:00 PM ET/PT) on FOX, and encore with all-new bonus footage and behind-the-scenes content on the National Geographic Channel (NGC) Monday, March 10 (10:00-11:00 PM ET/PT).
In premiere news: The iconic pulse-pounding clock resets when 24: LIVE ANOTHER DAY premieres with a special two-hour television event Monday, May 5 (8:00-10:00 PM ET/PT), and makes its time period premiere the following week on Monday, May 12 (9:00-10:00 PM ET/PT).
New comedy series SURVIVING JACK will premiere Thursday, March 27 (8:30-9:00 PM ET/PT) following the AMERICAN IDOL XIII results show (8:00-8:30 PM ET live/PT tape-delayed).
Gritty new action-drama GANG RELATED will have its series premiere on Tuesday, May 20 (9:00-10:00 PM ET/PT), following Part One of the two-night AMERICAN IDOL XIII Season Finale (8:00-9:00 PM ET live/PT tape-delayed). Created and written by Chris Morgan ("Wanted," "Fast Five").