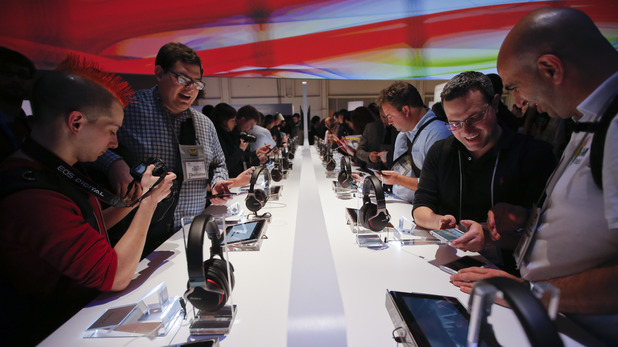 Sony's CES Booth #14200 is a techie's playground. — from the highest resolution 4K Ultra HD TVs to cameras for every type of shooter to smartphones that reshape mobile communications and even a new concept for active lifestyles: the SmartWear Experience. Here are all of the details you need to know!
At CES 2014, Sony is combining products, content and online services to create immersive and dynamic entertainment experiences — in and out of the home.
4K Ultra HD TVs and Content Options
Sony's 4K ecosystem includes all aspects of content capture, production and enjoyment, and advances in each of these areas are being highlighted at CES 2014.
Sony's line of 4K Ultra HD televisions is growing, with two new additions to the flagship X950B series – a 65- and 85-inch model. Each set features X-tended Dynamic Range PRO™ technology driven by direct LED arrays arranged in the backside of the panel to achieve a much wider dynamic range of brightness.
Joining the 4K Ultra HD TV range is the X900B series, with a new structural wedge design which increases capacity to incorporate large magnetic fluid speakers, providing a deeper, more powerful sound, unprecedented for a flat-screen TV.
Together with Sony's new 4K X850B series models, all 2014 4K TVs come with Sony's 4K 60p HEVC hardware decoder built-in to enable playing new forms of 4K content. Sony is also developing its next-generation 4K Media Player with expanded codec support (AVC, HEVC and XAVC-S) to support streaming of 4K content, as well as storage and playback of footage shot with Sony 4K Handycam® camcorders. 
Sony is also introducing five series of new BRAVIA® Full HD TVs, with a variety of screen sizes, viewing options and more interactivity, and each powered by Sony's X-Reality™ PRO picture engine for more accurate and realistic images.
Sony's Video Unlimited 4K download service offers a regularly updated library of more than 140 titles including full-length movies, television programs and short subjects, from Sony Pictures Entertainment and other studios and production companies. To give consumers even more 4K content choices, Sony is working with forthcoming 4K video services from Netflix and 4K photo services such as 500px and PlayMemories to enhance the 4K entertainment experience.
Digital Imaging
Creating content is a critical part of the Sony user experience. The past year saw Sony make significant advances in digital imaging, from the QX series of lens-style cameras to the full-frame-in-a-compact body alpha 7/alpha 7R interchangeable lens cameras and the fixed lens RX10 camera.
New at CES is Sony's alpha 5000, the world's lightest APS-C interchangeable lens camera. This mirrorless model combines high image quality with Wi-Fi and NFC capabilities and is perfect for photo enthusiasts looking for a small camera as well as point-and-shoot photographers looking to step up. Sony's PlayMemories Camera Apps family further enhances the photo experience with a growing range of free and paid apps, to offer new creative effects and utilities.
On the camcorder side, Sony's FDR-AX1 4K Handycam camcorder is now joined by the smaller and lighter FDR-AX100 model. This new camcorder has a back-illuminated 1-inch type CMOS image sensor and BIONZ X image processor for enhanced picture quality even in low light. Its large diameter ZEISS lens is optimized for movie shooting, and Wi-Fi and NFC let users quickly and easily connect to other devices such as smart phones and tablets. The camcorder can down-convert 4K content and its price is about $2,000.
Sony's new Action Cam (model HDR-AS100V) point-of-view camera adds a BIONZ X image processing engine, a new lens and image sensor for significantly improved image quality, and high frame rate capability for capturing slow motion video. The newest model is splash-proof with no need for a separate housing. A new feature lets users control up to five HDR-AS100V models with the Live-View Remote and record simultaneously with them all for a multi-view picture. The remote control function also works with other Sony digital imaging products such as the alpha, QX, Handycam and Cyber-shot lines.
Playing with New Technologies
Sony is also showcasing two new prototype technologies that further extend the concept of "Play."
The Head Tracker sensor attaches to the back of Sony's HMZ-T3W head-mount display, and senses the wearer's head movement and changes the view from left to right or up and down. With HeadTracker, consumers can view the footage captured on ActionCam, seeing different angles with a simple turn of the head.
The other new Sony prototype on display at CES is Tennis Sensor. This sensor attaches to a tennis racket and can analyze and record the user's tennis shot and information including swing speed, ball spin and speed for later review on a smartphone.
Audio
Audio has been at Sony's heart since the company was founded, and last year's introduction of High-Resolution Audio keeps that tradition alive and vibrant. At CES, Sony is demonstrating its High-Resolution Audio family, highlighting industry-wide support for the initiative and showcasing new products including Hi-Res capable audio/video receivers, PC audio and home speakers, home theater, portable players, speakers and headphones.
Sony Mobile
CES will feature an array of Sony mobile innovations that build on the success of its flagship Xperia Z smartphone.
The Xperia Z1 will now be available in the United States, in association with Sony's partner T-Mobile. A new addition to the Xperia series is the Xperia Z1s, which features Sony's leading camera technologies found in the Xperia Z1 including "G Lens," "Exmor RS for mobile" and "BIONZ for mobile."
The Xperia Z1s smartphone gives consumers new ways to enjoy their smartphone camera, with new social camera applications including the newly added Background Defocus to give photos an added creative edge. This is the first smartphone to come with the new PlayStation®App pre-loaded for remote and second-screen PlayStation®4 gaming experiences. Consumers will benefit from T-Mobile's ultra-fast 4G LTE network for downloading movies and streaming music.
For a smaller size option, Sony's new Xperia Z1 Compact model brings all the features and technology of the Z1 into a convenient palm size, available in four expressive colors with a family of 132 innovative NFC-enabled products.
Switching to the Xperia platform is now easier than ever with Xperia Transfer Mobile – a quick and easy solution for phone-to-phone transfer of contacts, music, photos, apps and more from other Android and iOS phones, without the need for a PC.
In addition to smartphones, Sony is outlining its new SmartWear Experience vision, including an upcoming range of SmartWear products, with Sony Xperia smartphones, and a new Lifelog application.
The first product in the range will be "SmartBand," which lets consumers log daily activities that are represented visually in Sony's Lifelog application.
Through the Lifelog application users can reminisce about the past, make the best of the present and plan for the future. The SmartWear Experiences shows that life is more than the number of steps you take; it's about emotion as well as motion. Entertainment and information; how you feel, as well as what you do. It's about moving, and most important, being moved.
Using open software and hardware, Sony is forging new partnerships to offer consumers more choice and continually develop the SmartWear Experience.
From an expanding world of 4K and 4K content, an industry wide Hi-Res Audio initiative to deliver sound in new ways, new digital imaging devices and portable devices that consumers can wear, pocket or attach – at CES 2014, Sony isn't just playing around.