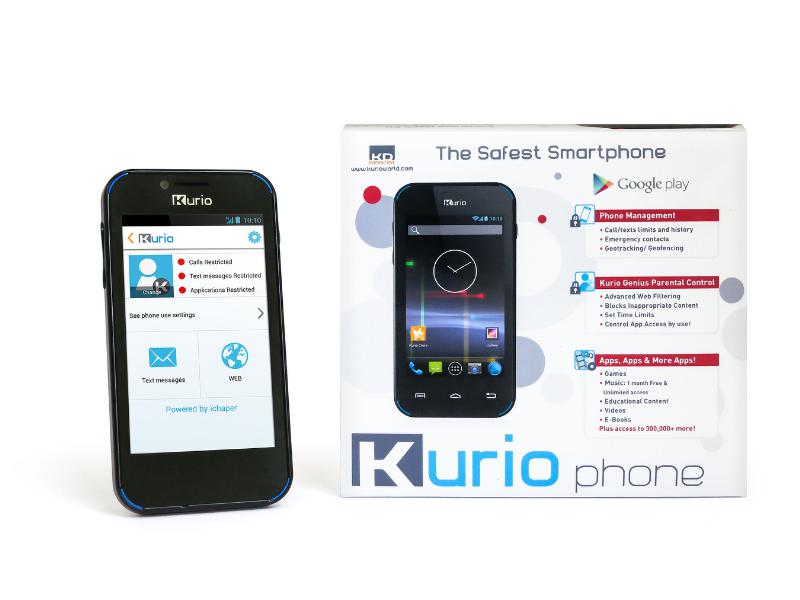 Techno Source and KD Interactive, a division of KD Group, makers of the best-selling Kurio line of Android devices for families with kids, announce the first-ever Kurio phone made just for kids.  The perfect first phone, Kurio Phone has all of the sophisticated smartphone features kids want, combined with the advanced parental controls and safety features for which parents have been waiting.
"'When can I have a cell phone?' is a popular question and point of contention that arises in many households with kids under the age of 13," said Eric Levin, division head, Techno Source.  "Up until now, the question has sparked many dinner table debates as parents struggle with concerns of safety, usage and offering their children unfettered access to the Internet.  Thanks to Kurio Phone's powerful parental controls, now parents can know who their kids are in contact with, manage their phone usage and rest assured they are safe online."
The Kurio Phone, the Safest Smartphone for Kids™, features robust parental controls that parents have come to expect and trust from Kurio, including app management, time control features and the Kurio Genius™ Internet filtering system with advanced security levels and daily auto-updates covering more than 450 million websites (and counting) in 170 different languages. 
"Kids want cell phones, but with access to this technology comes great responsibility," said Pieter van den Bosch, strategic director, KD Group.  "Kurio Phone includes additional parental controls to address safety concerns that come along with giving a child a mobile device, but they also promote the child's independence and help foster an open parent-child dialogue.  In fact, on the smartphone, the child will be able to monitor his or her own phone usage and see the parameters that mom and dad have set."
Additional Kurio Genius parental control features developed for the phone, using ichaper™ technology, include:
Contact Management
Parents can manage a child's contacts, allowing or blocking certain contacts.  If parents choose to maintain a safe list of contacts, kids may add contacts to their device, but they won't be able to call or message them until mom or dad adds them to the list of allowable numbers.
Primary Contacts
Parents can create up to five primary contacts that aren't subject to any restrictions and can also receive alerts.  For example, mom, dad, grandma, grandpa and older siblings.
Phone Use
Parents can set daily, weekly or monthly call-time limits and also limit the child's number of text messages.  They can also access the child's call log, text message and Internet browsing history.  In order to respect the child's privacy, the content of MMS and text messages is not displayed.  Though, Kurio Genius will provide tools to control message content.
Application Management
Parents can choose which applications are allowed, blocked or restricted by the calendar.  Newly downloaded applications are blocked by default.
Calendar
Parents can set restricted times by day of the week during which calls, SMS messages and restricted applications are to be blocked.
Geolocation
Using Kurio Phone's GPS tracking technology, parents can monitor their child's position every 15, 30 or 60 minutes, including his or her current position or last known position. 
Geofencing
Parents can also pre-define secure and danger zones on a map, and set the days and times when these zones are activated.   If the child leaves a secure zone or enters a danger zone, the parent will receive an alert.
In Case of Emergency (I.C.E.)
Parents can store the child's information, including date of birth, allergies, blood type, as well as a doctor's name and phone number, which can be accessed on the device in case of emergency.  A child can alert emergency services and their primary contacts in case of emergency, and also trigger a silent alarm by repeatedly pressing the "power" button when in danger.
Theft/Loss
In the event of theft or loss, parents can remotely trigger an alarm on the device, block the phone completely so that it cannot be used, erase the device's data, set it to take a picture at phone start up, display a message on the device's screen, and even track the device's current location.
Other Alerts
Parents can also receive alerts via SMS or e-mail notifying them when the child's phone is turned on/off, when it has a low battery, or even when the device's SIM card has been changed.