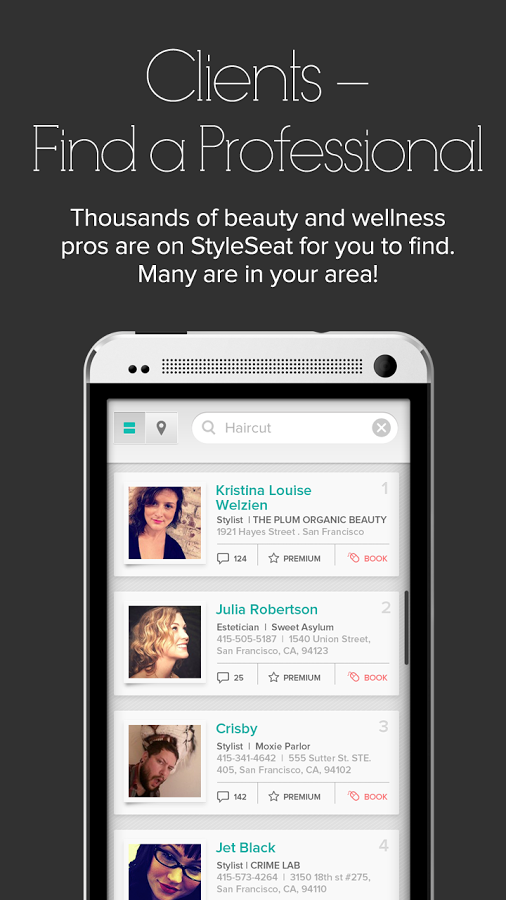 Do you ever scramble to find the phone numbers of your hair stylist, makeup artist, etc? StyleSeat is trying to make booking beauty appointments easier for everyone – all in one App.
StyleSeat announced the launch of a new app for Android and iOS. Stylists and beauty professionals can run their entire business from the StyleSeat app, and now, for the first time, anyone can book beauty appointments in nearly 15,000 cities right from their phone, for free. 
"In our mobile culture, people are increasingly managing their lives entirely through their devices," said Melody McCloskey, co-founder and CEO of StyleSeat. "With the launch of our new app, anyone can search for a hair stylist, nail tech or esthetician; view samples of their work; and instantly book an appointment through the app."
More than 5.5 million beauty appointments have been booked on the StyleSeat platform this year. The new StyleSeat app is an important part of the company's long-term growth strategy, as 68% of its usage currently comes from mobile devices. While the StyleSeat website has always served both professionals and clients, previously the StyleSeat app served only beauty professionals. Now both the site and the app serve both audiences.
"Beauty professionals tell us our app has been a game changer for their business," said McCloskey. "They rely primarily on their mobile phones throughout the day and rarely have time to sit in front of a computer. By providing their mobile appointment book, access to a client contact list for easy communication, and the ability to send email and text reminders for upcoming appointments, we're helping stylists manage their businesses from anywhere."
StyleSeat's online and mobile platform gives beauty professionals free tools to help them run, manage and grow their business, as well as a free website to showcase their work. Beauty professionals using StyleSeat on average reduce the time between client appointments from nine weeks to four, increasing client frequency from 5.8 appointments per year to 12.2 appointments. In an industry that is constantly battling client churn and looking for ways to grow client bases, the efficiencies professionals gain from using the platform have been transformative.
StyleSeat was founded in 2011 when CEO and co-founder Melody McCloskey realized there was no easy way to book beauty appointments on-the-go. After discovering this gap in the massive beauty and wellness industry and recognizing the need on both sides of the marketplace, she and co-founder Dan Levine created StyleSeat. They are passionate about helping small business owners thrive while also leveraging technology to make all our lives easier.