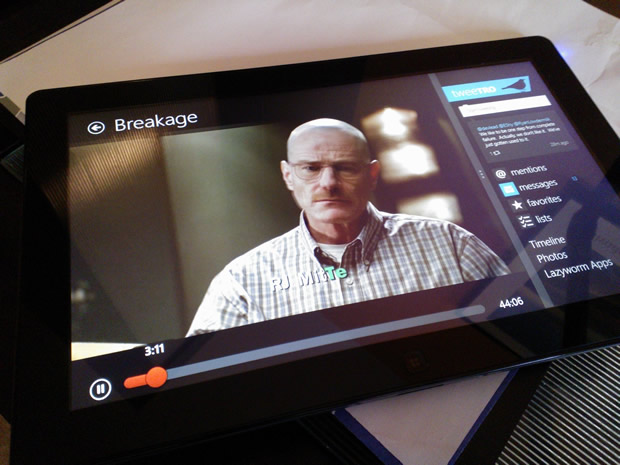 How many times have you heard a friend say, "I watched the entire season of Breaking Bad in one weekend."? Streaming is giving laptop lovers the freedom to bing watch.
Well, according to Netflix, 'Selfies' may be the official new word of 2013, but Binge-Watching was a runner up for a reason. A recent survey conducted online by Harris Interactive on behalf of Netflix among nearly 1,500 TV streamers (online U.S. adults who stream TV shows at least once a week) found that binge watching is a widespread behavior among this group, with 61% binge watching regularly.
If the common perception of binge watching was a weekend-long, pajama-wearing marathon of TV viewing, survey respondents don't see it that way. A majority (73%) defined binge watching as watching between 2-6 episodes of the same TV show in one sitting.  And there's no guilt in it.  Nearly three quarters of TV streamers (73%) say they have positive feelings towards binge streaming TV.
To better understand why binge watching has become such a cultural phenomenon, Netflix worked with cultural anthropologist, Grant McCracken, to trace the evolution of binge watching and more importantly, to explore how and why binge watching television is resonating with today's viewers.  McCracken went into the living rooms of several TV viewers across the United States and Canada to explore their changing TV behaviors.
"I found that binge watching has really taken off due to a perfect storm of better TV, our current economic climate and the digital explosion of the last few years," said Grant McCracken, cultural anthropologist.   "But this TV watcher is different, the couch potato has awoken. And now that services like Netflix have given consumers control over their TV viewing, they have declared a new way to watch."
"Our viewing data shows that the majority of streamers would actually prefer to have a whole season of a show available to watch at their own pace," said Ted Sarandos, Chief Content Officer of Netflix.  "Netflix has pioneered audience choice in programming and has helped free consumers from the limitations of linear television. Our own original series are created for multi-episodic viewing, lining up the content with new norms of viewer control for the first time." 
McCracken believes our digital lifestyle, where storytelling is often reduced to bite-sized, 140 character conversations, leaves us craving the kind of long narrative of storytelling in today's great TV shows. "TV viewers are no longer zoning out as a way to forget about their day, they are tuning in, on their own schedule, to a different world.  Getting immersed in multiple episodes or even multiple seasons of a show over a few weeks is a new kind of escapism that is especially welcomed today," he added.
TV streamers overwhelmingly agreed. 76% of TV streamers say watching multiple episodes of a great TV show is a welcome refuge from their busy lives. 79% said watching several episodes of their favorite shows at once actually makes the shows more enjoyable.  And three-quarters (76%) also say streaming TV shows on their own schedule is their preferred way to watch them.