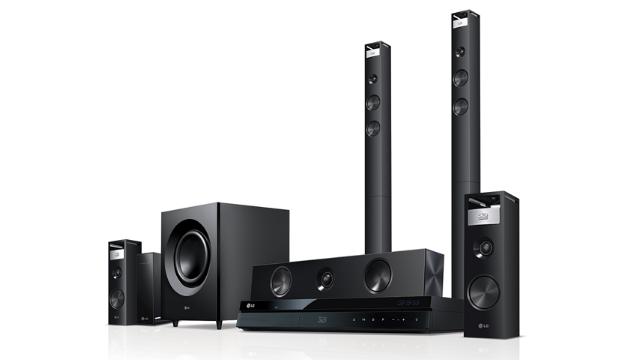 LG Electronics announced its U.S. audio video lineup which will be showcased at next month's 2014 International CES®. The premium selection of products offer consumers solutions with rich, deeply satisfying sound along with the plethora of convenient smart connectivity features.
"TV screens may get the majority of consumers' attention in the showroom but the unsung heroes of great home entertainment is sound," said Byung-hoon Min, Senior Vice President of the AV Division of LG's Home Entertainment Company. "At LG, we devote a significant portion of our TV research and development on the audio experience because we believe this will be the next battleground for winning the hearts and minds of home entertainment aficionados."
Combining Smart TV with Astonishing Sound
LG expanded its offerings in the emerging SoundPlate category with an all-in-one home entertainment unit, (model LAB540W). At a mere 39.5mm high, this stylish device is space efficient and can be placed directly underneath a variety of 32- to 55-inch class TVs to minimize clutter. The new model is equipped with a robust 4.1 channel, 320W sound system and an external wireless subwoofer.
The SoundPlate can also serve as a connectivity portal and features a built-in 3D Blu-ray player along with LG Smart TV functionality, transforming any flat screen TV into a Smart TV with powerful sound performance. Additionally, customers can wirelessly stream music to the LAB540W from a compatible smart phone or tablet via Bluetooth.
Streaming High Quality Music to Multiple Rooms
LG extended its audio lineup to include a versatile home audio system with a selection of networkable wireless speakers. LG's Multi-Room Speaker System provides a great solution for consumers by allowing them to wirelessly stream audio files from their compatible smartphones, tablets, or computers to multiple speakers simultaneously. Several speakers can be set up in any combination of rooms, connecting an entire house under a single system.
The embedded network technology makes it possible to choose between playing the same song throughout the home (Party Mode), or different songs through each speaker (Personal Mode). LG developed a downloadable app to turn a smartphone into an easy-to-use master control unit with an interface that lets users seamlessly stream locally saved music or audio from online sources. Overall clarity is enhanced by a dual-tweeter arrangement and 24 bit/192kHz offers studio-like sound quality. The two speakers in the lineup include: