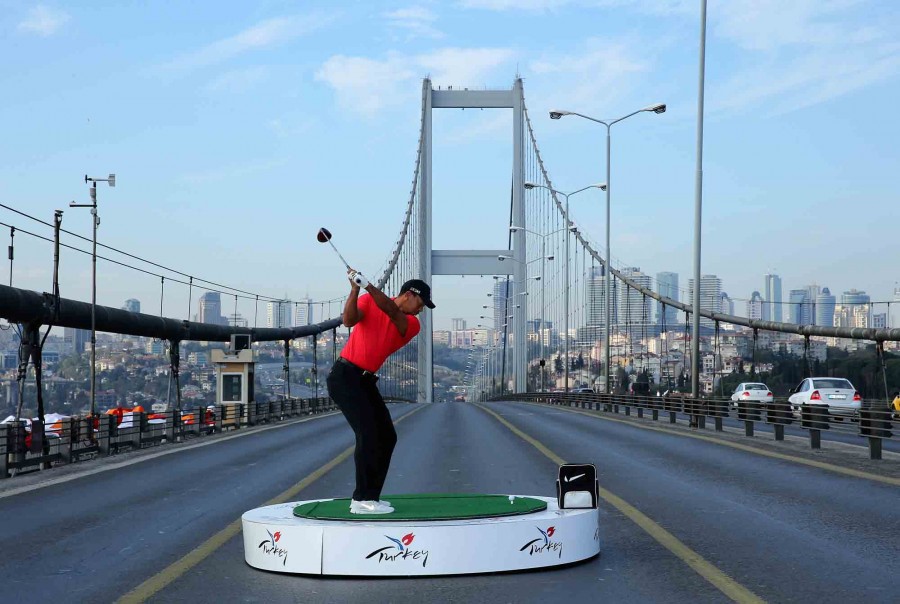 Tiger Woods achieved another first in his long and illustrious career while in the Turkish city of Istanbul on Tuesday, becoming the first golfer to hit balls from east to west off the Bosphorus Bridge.
Woods struck several shots from the iconic structure that connects Europe and Asia in front of international and local media.
"To be the first golfer to do this was very cool," said the 14-time major championship winner and world number one, who headlines Turkey's first ever European Tour event, the US $7million Turkish Airlines Open presented by the Ministry of Tourism and Culture, this week.
"I have really enjoyed my visit to Istanbul. To see the Bosphorus for the first time was a very enjoyable and memorable experience."
The gravity-anchored suspension bridge, which is 3,524 feet long, was completed in 1973 after 16 years of planning and is located between the European neighbourhood of Ortaköy and Asian shore of Beylerbeyi. It is perhaps the most distinguishable landmark in Istanbul, one of the world's most vibrant and historically rich cities. 
Ahmet Ali Agaoglu, President of the Turkish Golf Federation, said: "We are delighted Tiger took part in this historical event. The presence of arguably golf's greatest ever player in Turkey is wonderful for the profile of the game in the country."
Ömer Çelik, the Minister of Turkey, said: "It was an honour to welcome Tiger to Istanbul. It demonstrates Turkey's ability to attract and host the biggest names in world sport and we are certain he will enjoy his week."
The Turkish Airlines Open presented by the Ministry of Tourism and Culture forms part of the European Tour's inaugural Final Series and is the penultimate event on the 2013 Race to Dubai. It features 78 of the game's best players and gets under way at the Montgomerie Maxx Royal in Belek, Antalya, on Thursday.