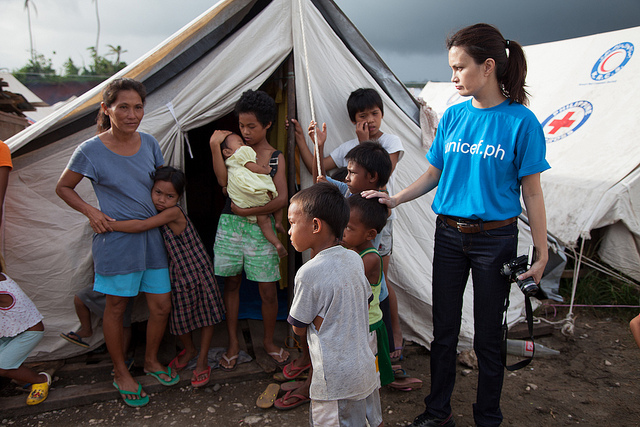 The NBA and National Basketball Player's Association (NBPA) today have teamed up to donate $250,000 to the U.S. Fund for UNICEF in support of UNICEF's emergency relief efforts in areas of the Philippinesravaged by Super Typhoon Haiyan. The latest estimates indicate that as many as four million children could now be affected by the disaster, and the donation will aid UNICEF in providing children and families with immediate necessities including food, water, and medicine.
The NBA Family is also assisting UNICEF in raising awareness of the urgent support needed for children and families in the Philippines. Miami HEAT Coach Erik Spoelstra will appear in a U.S. Fund for UNICEF Public Service Announcement to help raise funds for relief efforts.
In July, 2009, Spoelstra embarked on what would be the first of four trips back to his native Philippines.  In each of these trips, he has hosted basketball and coaches clinics, promoted the importance of education, healthy living and wellness, while being able to reach close to 10,000 underprivileged youth through these efforts.  In 2011, the nine-day program in Manila was the largest NBA FIT event ever hosted in Southeast Asia under the NBA Cares umbrella.  During the summer of 2012, Spoelstra expanded this program to include the country of Singapore.
Children who escaped Haiyan still need urgent assistance to survive in the aftermath of the storm. Health is an urgent priority due to the impact of the typhoon on water supplies and sanitation systems. Children also need safe and protected spaces to be able to play and continue their education while adults work to recover their homes and livelihoods.
UNICEF is mobilizing therapeutic food for children, as well as kits containing health, water and hygiene supplies, from stocks already available in the country, to support up to 3,000 families in the affected areas. As soon as access is possible, these supplies will be distributed to the hard-hit area of Tacloban.
UNICEF is airlifting $1.3 million worth of additional supplies from its warehouse in Copenhagen for another 10,000 families, including those affected by the recent earthquake in Bohol. The shipments contain water purification tablets, soap, medical kits, tarps, and micronutrient supplements. 
How to help: For more information or to make a tax-deductible contribution to UNICEF's relief efforts, please contact the U.S. Fund for UNICEF:
Website: www.unicefusa.org/philippines
Toll free: 1-800-FOR-KIDS
Text: RELIEF to 864233 (UNICEF) to donate $10
Mail: 125 Maiden Lane, 10th Floor, New York, NY 10038
As with any emergency, in the event that donations exceed anticipated needs, the U.S. Fund will redirect any excess funds to children in greatest need.
Find us on Twitter: @unicefusa, #Haiyan; join us on Facebook: UNICEF-USA